DIRECTIONS & ACCOMMODATIONS
Embassy Suites Hotel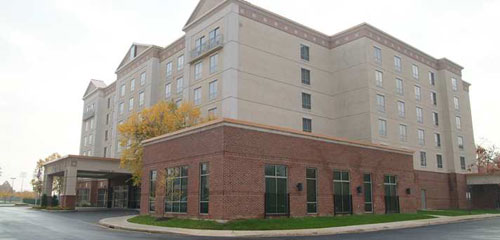 654 South College Avenue
Newark, Delaware
USA 19713
Tel: +1-302-368-8000
Fax: +1-302-368-8975
Hotel Website - book by March 15 to reserve a room at the discount rate.
The Embassy Suites Hotel is the conference host hotel and primary conference location. It lies in the heart of the Brandywine Valley, a region steeped in history and beauty, as well as science and technology.
Nearby, phase-one development of the University of Delaware's new Science, Technology and Advanced Research (STAR) Campus is under way. Across the street is UD's College of Agriculture and Natural Resources, with its wealth of research in biotechnology to environmental studies and animal and food science. Be sure to grab an ice cream cone at the student-run UDairy Creamery.
UD's picturesque main campus, with its stately Georgian architecture, lies within a short walk over the bridge. Classified as a major research university, UD has roots extending to a small private academy in 1743 whose first class of students included three future signers of the Declaration of Independence and one signer of the U.S. Constitution.
Catch the Fightin' Blue Hens right across the road at the University of Delaware Sports Complex, and enjoy many other sporting and cultural venues in the area, including Frawley Stadium – home of the Wilmington Blue Rocks, and Delaware Park Racetrack. Head to the Wilmington Riverfront for attractions ranging from parks to a wildlife refuge and a tall ship.
Visit Winterthur, the premier museum of American decorative arts, and its 60 acres of gardens, and the Delaware Art Museum with its distinguished American art collections. Spend a day in quaint New Castle touring the historic homes, churches and gardens. Shopping/dining is tax free in Delaware – head to Christiana Mall to browse the many stores or enjoy a meal in one of the numerous restaurants.