REGISTRATION & ABSTRACT SUBMISSION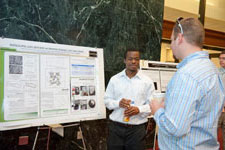 Registration and abstract submission are restricted to CAA institutions only.
Each CAA member institution may register up to two faculty advisors and up to 10 students for the 2013 conference. Due to time constraints, only two student registrants per school will deliver oral presentations; all others will give poster presentations.
The registration deadline is February 25.
Registration Fee
The registration fee is $600 per institution. Payment in full (check made out to "University of Delaware" with a memo "CAA Research Conference") should be sent by March 15, 2013, to this address:
University of Delaware
Office of Undergraduate Research & Experiential Learning
180 South College Avenue
Newark, DE 19716
Attn: Mary Ann Null