[Home]
[Fellows]
[2008 Fellows]
[Adam Aguiar]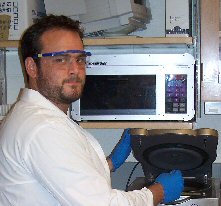 Myself and My Research: I am 25 years old and from a little town on the coast of central New Jersey.  Being a graduate student at the University of Delaware is a privilege in that I can visit my parents and three younger brothers at my leisure.  Here at UD I'm currently pursuing my PhD in molecular biology where my area of study focuses on the implications of a specific protein in prostate cancer (PCa) progression.  Techniques like cell culturing, invasion-, migration-, and growth-assays allow me to investigate the functions of this protein on a variety of PCa cell model systems.  My hopes are that the research I complete here contributes and eventually leads to improved treatment strategies and diagnostic measures for people suffering from PCa.  The passion I have for research and teaching that led me to pursue this track mold my future aspirations as well.  I plan to use the skills I acquire here in obtaining a post doctoral degree.  Ultimately, my goal is to find a position as a full professor at a small university, and possibly aiding in additional cancer research.
Developed Class Material
Research: PPT, PDF ________Teaching: PPT, PDF

Lectures (PPT): coming soon
Lectures (PDF): coming soon
Additional Information
Contact: aaguiar@udel.edu

In The Classroom:  At Saint George's Vocational High School I work with Mr. Mike Kittel in teaching sophomore biology. Here I implement methods and equipment from the laboratory at UD in exposing the students to how science is currently undertaken in today's field. Also, bringing my knowledge base on cancer and cell biologies surely adds to lesson impact and classroom discussion for many topics.   Relating such material to practical, real-life, applications is a consistent goal of mine.  From this experience my love for teaching has grown even further, and I have gotten as much from the students as they've received from the classroom.