Admissions
Visiting UD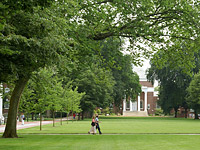 The Green and Memorial Hall
The University of Delaware main campus is located in Newark, Delaware, which is about 20 minutes away from Wilmington, an hour from either Philadelphia or Baltimore, two hours from Washington D.C., and two and a half hours from New York City.
You can visit our beautiful campus whenever it is convenient to you. There are some special seasonal events, such as Discovery Days, which may help you decide whether UD is right for you. You can also go on a virtual campus tour.
The main office of the Department of Mathematical Sciences is located in 501 Ewing Hall.
Applying to UD
The UD Catalog provides important general information for every applicant to the University. If you would like to know more about the University of Delaware, please read About US
Additional information is also available, including admissions guidelines, financial aid, and housing and dining. Application for admission can be done online. If you are a Delaware resident, you will want to know about UD's Commitment to Delawareans.
There are many opportunities to enrich your education at UD, including The University Honors Program, undergraduate research, degrees with distinction, double majors, double degrees, study abroad, and several other enrichment opportunities.