Accommodations
Transportation to/from Philadelphia International Airport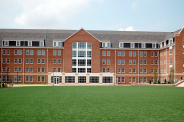 UD Residence Halls
The University of Delaware Residence Hall housing options used for the Nanomedicine Conference will be within walking distance of Clayton Hall. There is a small food market, with organic and vegetarian selections, located close to the Residence Halls.
All residence halls feature state of the art fire alarm and suppression systems including individual room smoke detectors and sprinkler heads. In addition, all halls are locked twenty-four hours a day and have an advanced security system featuring door alarms and a key card entry system restricting access to only those residing in the building. All halls are smoke free and include public area lounges, laundry and kitchen facilities, TVs, and quiet study spaces. Kitchenette with full size refrigerator, living area furnishings and one bathroom per room are provided in on-campus apartments.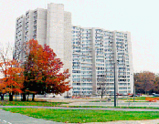 Room furnishings include single beds, 36 inches wide and 80 inches long, one pillow and one blanket, dressers, desks and study chairs, lighting, wastebasket, closets or wardrobes, and window treatments. A linen package will be provided upon arrival, including 2 sheets, 1 pillowcase, 1 bath towel, 1 hand towel, 1 washcloth, shampoo, conditioner, bar of soap, and a bath mat.
All University furnishings and facilities are identified with barcode labels. Please do not remove these labels.
Obtaining a Visa
Individuals from countries not in the U.S. Visa Waiver Program (see below) will need a letter of invitation to the meeting in order to obtain the required visa to visit the U.S. Visas can sometimes take a while to procur and if you need one, you should start NOW. If you need such a letter, please write to Arun Kumar.

"The Visa Waiver Program (VWP) enables nationals of 36 participating countries to travel to the United States for tourism or business (visitor [B] visa purposes only) for stays of 90 days or less without obtaining a visa."
If you ARE NOT from one of the following 36 countries, you will need a visa to visit the U.S.:
Andorra
Australia
Austria
Belgium
Brunei
Czech Republic
Denmark
Estonia
Finland
France
Germany
Greece
Hungary
Iceland
Ireland
Italy
Japan
Latvia
Liechtenstein
Lithuania
Luxembourg
Malta
Monaco
New Zealand
Norway
Portugal
San Marino
Singapore
Slovakia
Slovenia
South Korea
Spain
Sweden
Switzerland
The Netherlands
United Kingdom
Even if you are from one of the countries above, there are other requirements for entry to the U.S. without a visa. For example, you will need a visa if you are a national of the Czech Republic, Estonia, Greece, Hungary, Latvia, Lithuania, Malta, the Republic of Korea, or the Slovak Republic AND YOU DO NOT HAVE an electronic passport with an integrated chip; or if you are a national of one of the VWP countries listed above AND YOU DO NOT have a machine-readable passort (MRP) containg a digital photograph or an integrated electronic chip.
For more information on the VWP, visit the State Department page:
http://travel.state.gov/visa/temp/without/without_1990.html