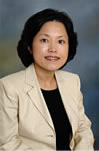 Dr. Hye-Shin Kim
Project Director,
and Editor,
University of Delaware
As we begin the Western New Year with deepening financial troubles in the United States and its worldwide global impact, the FIBER journal focuses on China -- a country that has reported record-breaking economic growth in the past years and impressively showcased its strength as a global economic power during the 2008 Summer Olympics. The slowdown of the world economy and recession fears have become a painful reality in developed markets that are major importers of Chinese goods such as the U.S, Japan, and Europe.
China's big economy now is being tested to prove it is a strong economy. As the Chinese economy transitions with the shrinking worldwide demand for goods and services, many Chinese workers are being laid off. Traditionally a country for manufacturing low-cost, export-oriented goods, China is now working to rebalance its economic profile to be similar to that of the U.S. and Japan, where technology-based manufacturing and the service sectors dominate. At the same time, China needs to increase Chinese consumer spending and increase consumption of both domestic and imported goods and services to stimulate demand for production.
A similar pattern of change is seen in China's textile and apparel sector. Although China is the world's largest supplier of apparel items, accounting for more than half of U.S. apparel imports, we see China's economic growth impacting its competitiveness in the textiles and apparel sector. In this issue of the FIBER journal, we provide an overview of the U.S. – China textile and apparel trade and discuss the impact of its slowing growth rate on the maturing textiles and apparel industry in China.
As China continues to be a major business partner for big and small companies, we present current practices and insights by business professionals, as well as academic scholars, and also recognize the significant role of Chinese consumers in the global marketplace. In addition, you may read about student and faculty experiences in Hong Kong, learn about "kid-centric garment therapies," and see the results from our poll that asked readers about the future of U.S. apparel production.
Finally, this issue of the FIBER journal highlights social responsibility in the textiles and apparel industry. Articles shed light on current attitudes related to social responsibility in China and a futuristic view of sustainable business practices in our industry. As part of our focus on social responsibility, we are pleased to announce our first audio FIBERcast on February 23 at 1:30 Eastern. Don't miss your chance to listen live to leading experts Dr. Marsha Dickson and Doug Cahn and submit your questions online! For more information and to register, click here.
As we publish the third issue of the FIBER journal, we are very pleased to have nearly 4,000 readers as part of our FIBER community. Our readership is diverse, representing all regions of the world and various industry and academic positions. We encourage you to send us ideas for future issues and welcome your feedback. Contact us at fiberjournal@udel.edu.



Q&A
In this issue of FIBER, Brian DeLeu, design director for JC Penney in Plano, Texas, takes time out from a line/sample development trip to China to answer our questions about the future of sourcing, design, and product development in China.
Find out what the man responsible for JC Penney's $1.3-billion
St. John's Bay brand of women's sportswear and accessories says has changed over the past decade in terms of international sourcing and what he foresees in the near future for Chinese apparel businesses and designers.
Read more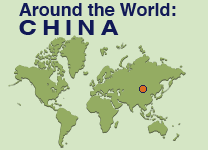 The explosion of manufacturing in China in recent decades has resulted in environmental concerns.
An early producer of paper, china, gunpowder, and silk, China is today a leader in the manufacture of global retail goods. China has the largest apparel industry in the world and accounted for almost a third of world garment exports in 2007. China exported $156.6 billion worth of clothing and textile products in the first 11 months of 2007.
Chinese consumers, especially young urbanites born since 1980, are enjoying an unprecedented level of purchasing power.

As the world witnessed during the 2008 Olympic Games in Beijing, China is a country rich in history, culture, and national identity and pride.
The largest country in the world by population and the third largest in area, China encompasses abundant natural and human resources.
In 2007, China ranked as the second-largest economy in the world after the United States, Its labor force, with 803.3 million workers, is the world's largest.





A new book takes an in-depth look at social responsibility in the apparel industry.
Learn more



A tour of a shoe factory in Taiwan changes the course of one student's career and perhaps an industry.
Learn more