Rita Chang
Senior, Fashion and Apparel Studies, University
of Delaware
I still remember the feeling of walking through my first textile and shoe factory tour in Taiwan during the summer of 2007: wide-eyed, shocked, appalled, disappointed, and disturbed. I remember the acrid smell of epoxy glue pervading the entire floor, thanks to the very small windows, home-use fans, and the lack of masks for all workers present. Workers stitched, wove, and glued furiously fast, never glancing up at me, on wooden backless stools, given only two breaks the whole "eight-hour" day — for lunch and to use the bathroom. Some did not even have a chair to sit on the whole time.
I came back to the States, questioning my then biological sciences major — how could I live my life as a pediatrician, knowing that workers around the world are suffering in order to make us consumers happy? I knew I had to do something.
A few months later, after creating my Dean's Scholar major in "Social Responsibility in the Textile and Apparel Industry," my adviser and professor, Dr. Marsha Dickson, the chairperson of the UD Department of Fashion and Apparel Studies and a member of the Fair Labor Association Board of Directors, approached me with the opportunity to help create an online course for multinational corporations to teach them ethical purchasing practices in order to improve global textile factory working conditions. I thought to myself, how better to give back to that Taiwanese factory and others than by creating change at the roots?
It is becoming progressively more evident that many purchasing practices conducted by corporate retail staff have a substantial negative impact on the supply chain's working conditions. That is, merchandisers' purchasing decisions affect how manufacturers control their employees and production, often causing the deterioration of working conditions.
The course is being created for companies participating in the Fair Labor Association (FLA). The project's goals are to use interactive curricula to not only bring awareness, but to change behaviors in the corporate community.
Prof. Dickson invited me to go with her to the FLA annual board meeting in Shanghai this past June, and I am so honored and lucky that she did so. There, I had the opportunity to interview industry executives, government officials, and NGOs about the best way to approach this project. From their responses, meetings with the UD Office of Educational Assesment (to establish learning goals), and the UD Online Resource Center (to determine the best and highest technology to use), and my extensive research with my professor, we are creating a thorough, seven-week course aimed at top management executives.
The idea that purchasing practices can have a positive impact on factory conditions is relatively new. There is controversy about this method of change, since altering purchasing practices is targeting the heart of how a corporation earns it profit. However, I believe that for this — or any of life's endeavors — change always starts somewhere and somehow.
Working on this course, which will be released in early 2009, has reinforced my desire to help advance the change that should and needs to happen for these factory workers. Change for them will not happen overnight — it is a process. Those Taiwanese workers I saw two summers ago may not even witness the change until a few years from now. But I know that making this difference is just like creating a T-shirt, minus, of course, the cruel environment: so many opinions, ideas, travels, human touches, time, and steps to create the final product. The course I am creating with my professor may just be the hems and stitches of part of the shirt, but I am determined to complete the final product, the global solution, and give back the lives that factory workers deserve, no matter what it takes.
Top


Leslie Davis Burns
Professor and Chair,
Dept. of Design and Human Environment,
Oregon State University
Leslie Davis Burns is professor and chair of the Department of Design and Human Environment in the College of Health and Human Sciences at Oregon State University. At OSU since 1985, she also has held the positions of associate vice provost for academic affairs and interim vice provost for academic affairs.

Dr. Burns teaches and conducts research on topics related to the international textile and apparel industries, merchandising management, consumer behavior, and fashion theory. She is the author or co-author of seven books including the best-selling textbook, The Business of Fashion: Designing, Manufacturing, and Marketing, and over 55 research articles.She is both a Fellow and Distinguished Scholar of the International Textile and Apparel Association (ITAA) and received the Educator of the Year Award from Apparel Magazine. In addition, she has received the OSU Faculty Service Award, Woman of Achievement Award, Bressler Senior Faculty Teaching Award, L. L. Stewart Scholar Award, and the Beaver Champion Award given by the president of Oregon State. Dr. Burns has a B.A. from Washington State University and a Ph.D. in consumer sciences and retailing from Purdue University.


East not only met West during Hong Kong Fashion Week Spring/Summer 2009 held July 8–11, 2008, at the Hong Kong Convention and Exhibition Centre (HKCEC), the two collided into a visually stimulating and effective demonstration of the future of the global textile and apparel industries. European design sophistication, American brand orientation, and Asian sourcing and production capacity melded together as thousands of buyers, designers, and others in the fashion industry attended seminars, fashion shows, and trade show exhibits. Sponsored and organized by the Hong Kong Trade Development Council (HKTDC), the trade show attracted over 1,500 exhibitors from more than 20 countries and regions. The seven group pavilions, from the Chinese mainland, India, Japan, Korea, Macau, Malaysia, and Taiwan, exemplified the domination of Asian companies in the trade show exhibit halls where they focused on communicating to potential buyers their flexibility, speed, and quality of production of women's, men's, and children's apparel and accessories.
The trade show was not all about production and sourcing, however. In an effort to highlight the Hong Kong design community, a group of 16 young Hong Kong lifestyle designers and 20 graphic designers, painters, photographers, and other artists celebrated the Beijing Olympic Games with a fashion show and art and graphics exhibition both themed "Diversity in Action" and sponsored by the Hong Kong New Design Force. The fashion show demonstrated that Hong Kong's creative community is rich with talented artists and designers using innovative materials, techniques, and media. The fashion show was one of seven runway shows presented during the fair period.
In addition, eight special-topic seminars were held including color and trend forecasting, "green" design and production, issues related to global production, and branding. Several themes emerged from these seminars:
a focus on sustainability in design, textile, and branding trends,
multicultural influences on design and consumer preferences,
lifestyles of consumers as driving forces for brands, and
the paradox of design inspirations from nature combined with high-tech techniques and production.
Indeed, as the world-wide textile and apparel industries grow and mature, it will be imperative for trade shows such as Hong Kong Fashion Week to create unique niches for themselves in attracting a broad range of international exhibitors and attendees. Based on this recent visit to Hong Kong Fashion Week, I believe it has established itself as one of the premier shows worldwide.
Top


Kelly Cobb
Instructor,
University
of Delaware
Kelly Cobb is an instructor of fashion and apparel studies at the University of Delaware. She holds a B.F.A. in fiber from the Maryland Institute College of Art (MICA), and an M.F.A. from the University of Florida. The Philadelphia-based creative designer has taught textile design at the Antoinette Westphal College of Media Arts and Design at Drexel University, the University of the Arts, and MICA.

Currently, Cobb is applying concepts utilized in current agricultural sustainability Initiatives such as the slow/local food movement and community-supported agriculture to textile and apparel production by focusing on slow and local production of an heirloom product via artisan methods. As mentioned in her article, she is active in design work that offers opportunities to fashion with a purpose, currently designing prototypes of fashionable, kid-centric garment therapies, which are an emerging form of active input for children with special needs.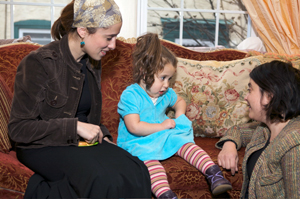 In a user-innovation design model, end users are engaged as designers to produce new ideas for everything from popular software programs to tangible goods such as T-shirts. Also called participatory design, users are invited to collaborate with researchers and developers during the process of problem definition and innovation. By working together, designers and users formulate solutions and craft end products that are responsive and appropriate to users' cultural, emotional, spiritual, and practical needs.1
I am part of a design team currently utilizing the user-innovation design model with great success. We facilitate the design of fashion-forward garments that address a complex spectrum of special needs. Our user-designers live with varying degrees of Sensory Processing Disorder or SPD, and they are all under the age of 10!
According to the Sensory Processing Disorder Foundation, one in every 20 children experiences symptoms of SPD that are significant enough to affect their ability to participate fully in everyday life. According to occupational therapist and neuroscientist A. Jean Ayres, SPD is like a neurological "traffic jam" that makes it difficult for individuals to process and react to information received through the senses. Symptoms of SPD, like those of most disorders, occur within a broad spectrum of severity, but include motor clumsiness, behavioral problems, anxiety, depression, school failure, and other impacts if the disorder goes untreated.2
Empirical research indicates that many children with SPD display improved social and emotional functions when outfitted with clothing that is weighted or tight, as these types of garments offer the children proprioception, or deep pressure, which allows them to create a more accurate foundation for motor control and planning (Ibid).
Fun and Function is the name of a project started by Aviva Weiss, an occupational therapist and mother of children with SPD. Weiss was frustrated by the lack of fashionable, kid-friendly, and affordable special needs garments. Fun and Function has developed stylish sensory integration garments that utilize weight and compression for children experiencing SPD, as well as trend-forward weighted exercise vests.
Most recently, Fun and Function developed a fanciful series called Magical Apparel™. Magical Apparel™ is a collection of dress-up garments that function to develop tactile perception and discrimination with clothing-based exercises designed to develop fine motor tasks such as buttoning, zipping, and fastening clothes.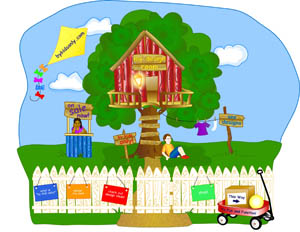 Our current collaboration, BY KIDS ONLY™, encourages children with tactile defensiveness, a subtype of SPD, to articulate preferred and problematic colors, textures, and patterns, as well as what is fun and what is hard about getting dressed. The BY KIDS ONLY™ Web site offers an opportunity to engage children, with the involvement of a parent, in a conversation about what clothes he or she likes best and why. A child posts artwork online and votes for his or her favorite designs. Designs will be reviewed and interpreted by other children on the network. A team of pediatric therapists and designers will implement ideas and feedback from the children into final products. Winning designs will be manufactured from 100% organic cotton and available via our online store or through participating retailers. Participant user-innovators are provided with free custom garments.
In working with a core group of children, parents, and therapists, we have found that the increased control given to children in the design process empowers kids who typically have little control over their lives. Designing a dream garment offers children, with the involvement of the parent, the opportunity to articulate what feels good and bad. Our junior user-innovators make conceptual leaps regarding what is possible in special needs clothing. Despite (or maybe because of) the complexities our user-innovators face, they offer up unhindered imaginations concurrent with a felt knowledge of comfort, fit, and style that would put the most precise technical designer to task!
Fashionable, kid-centric garment therapies are an emerging form of active input. This design work is a great opportunity to fashion with purpose. Therapeutic garments that eschew the "special needs" stigma for an increasing population of creative, opinionated, and fashion-deserving end users is worthy of further innovation and development.
1. http://en.wikipedia.org/wiki/Participatory_design
2. From the Sensory Processing Disorder Web site (http://www.spdfoundation.net/aboutspd.html), accessed Nov. 14, 2008.
Top