Marsha Dickson
Chairperson, University
of Delaware Department of Fashion and
Apparel Studies, College of Human Services, Education and Public Policy
Marsha Dickson, chair of the Department of Fashion and Apparel Studies in the College of Human Services, Education and Public Policy, has published a new book, Social Responsibility in the Global Apparel Industry, along with coauthors Suzanne Loker of Cornell University and Molly Eckman of Colorado State University.
"This is a book we wish was unnecessary to write," say the authors in the book's preface. "But this book is necessary to write. Unsafe factory conditions, long hours, inadequate pay, and use of toxic chemicals are not isolated incidents but widespread, systemic problems throughout the global apparel industry."
Published by Fairchild Books of New York, the book provides insight on how leading apparel and footwear manufacturers and retailers approach and attempt to maintain social responsibility in the design, production, and sourcing of their products and in business operations. While the general tone of the book is positive and highlights the innovative actions and best practices of leaders in social responsibility, readers will also gain insight about unresolved issues.
The book primarily focuses on topics associated with achieving improved labor standards and working conditions. Dickson and her coauthors address the complexity of identifying and finding solutions for such problems as child labor, harassment and abuse, discrimination, excessive work hours, low wages, factory health and safety, and limits on freedom of association.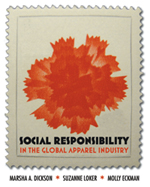 The authors also introduce various supply chain stakeholders, what they demand, and how they have influenced the industry's movement toward greater social responsibility. They highlight trends in global production and sourcing and introduce how environmental concerns important to the industry are being addressed.
"The book is based on a wealth of information we have gained through research that has involved first-hand experiences with the topics," Dickson says. "We have conducted numerous interviews with individuals who work for multinational corporations, nongovernmental organizations (NGOs) and labor groups, and factory management in the United States and offshore.
"We've made dozens of factory visits to countries around the world, including China, Guatamala, Hong Kong, Thailand, Turkey, and Vietnam," she continues, "and I have participated in the decision-making and leadership of the Fair Labor Association, which focuses on improving labor conditions in apparel and footwear factories."
She adds that the authors analyzed piles of research articles, corporate and NGO reports, and editorial and news reports from the international press.
"Addressing the social and environmental impacts of supply chains has never been more important to successful companies," says Doug Cahn, a corporate responsibility veteran and principal of The Cahn Group, LLC. Social Responsibility in the Global Apparel Industry provides the historical context and practical insights necessary for practitioners and students alike."
Dickson hopes the book will find multiple uses by instructors in the apparel field, either as a primary text for courses focused on social responsibility or as a supplemental text for courses examining current topics in the industry.
"Educators from other disciplines like business, sociology, women's studies, or international economics may also find the book useful," she adds, "and could use it as an industry sector case study when examining issues in business and society, globalization, and international development. We also hope it will find wide readership in the apparel industry as a reference and guide to those who are interested in advancing social responsibility in their businesses and even among those in other industries with similar complex, global supply chains, such as toys and electronics."
Marcela Manubens, senior vice president global human rights and social responsibility for Phillips-van Heusen, agrees that members of the apparel industry will benefit from reading Social Responsibility in the Global Apparel Industry, saying, "The book illustrates the evolution of the field of social responsibility and its complexity in the apparel industry and allows the reader to understand today's real challenges. As an educator and practitioner, I believe this is a very informative tool."
To learn more about the book, consider tuning in to FIBER journal's first live podcast on February 23, at 1:30 p.m. Eastern — guests include Marsha Dickson and Doug Cahn. Advance registration is available at http://www.pr.udel.edu/fmi/xsl/fiber/register.xsl.
Top

Marsha Dickson, professor and chairperson of fashion and apparel studies at the University of Delaware, is working with the Fair Labor Association (FLA) and Business for Social Responsibility (BSR) on the project "Aligning Internal Corporate Practices with Compliance" that will create an executive education course. The project is in response to growing evidence that internal corporate practices of designing, merchandising, and buying apparel and footwear products are preventing factories from complying with the FLA code of conduct, especially regarding standards for hours of work and wages. The course will be delivered through the Internet to corporate design, merchandising, and buying staff with goals of expanding awareness of how their decisions and actions contribute to factory noncompliance, and allowing participants to work together to creatively generate ideas for work practices that will reduce the negative impact their activities have on factory compliance. You can download a video created for the project below.
Rita Chang, a junior Dean's Scholar major at the University of Delaware, is working with Prof. Dickson on the project. She has interviewed a range of corporate and nongovernmental organization professionals to gather information to be used in the course. Rita talks about her experience working on the project in Factory Tour Transforms Student into Change Agent.
Prof. Dickson has been part of the board of directors of the FLA since 2002, where she actively participates in the monitoring and communications committees and in February will take over as chair of the monitoring committee. The FLA is a collaborative effort to improve working conditions in factories around the world. By working cooperatively with forward-looking companies, NGOs and universities, the FLA developed a workplace code of conduct based on ILO standards and created a practical system of monitoring, remediation and verification to achieve these standards.
A leader in corporate responsibility since 1992, Business for Social Responsibility (BSR) works with its global network of more than 250 member companies to develop sustainable business strategies and solutions through consulting, research, and cross-sector collaboration. With six offices in Asia, Europe, and North America, BSR leverages its expertise in environment, human rights, economic development, and transparency and accountability to guide global companies toward creating a just and sustainable world.
Top

Top