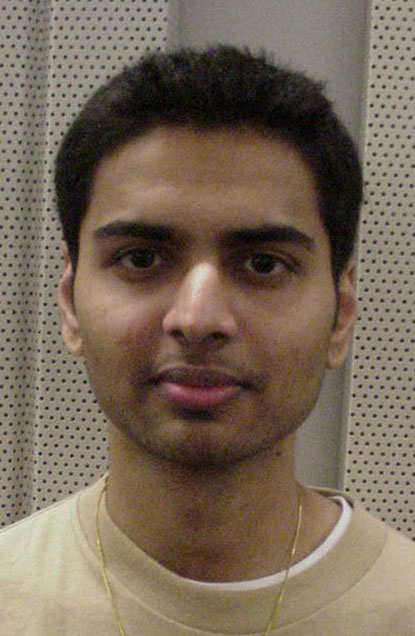 Vivek Patel
Neuroscience '06
Research Mentor: Deni Galileo, Department of Biological Sciences

Project Title: Tumor cell migration on brain slices. Poster

Honors, Awards, and Activities: Alpha Lambda Delta, Psychology Junior Award, McNair Scholar, HHMI Summer Analytical Chemistry Program, AAUP Undergraduate Student Award 2006, and Paynter Memorial Prize 2006, Historian/Webmaster for the Making Doctors (M.D.s) Student Organization, Alpha Lambda Delta, Psychology Junior Award, McNair Scholar of Promise Award
Presentations:

 2003 Summer Research Symposium, Summer 2004 Symposium,  Summer 2005 Symposium, Poster at Experimental Biology Meetings-San Francisco April 2006.National McNair Scholars Research Conference in 2004 and 2005. 5th and 6th Annual McNair Scholars Summer Research Symposium.

Publications: Fotos, J.S., Patel, V.P., Karin, N.J., Temburni, M.K., Koh, J.T., and Galileo, D.S. (2006) Automated time-lapse microscopy and high-resolution tracking of cell migration. Cytotechnology 51(1): 7-19.
Jing Tian, , Carrie A. Paquette-Straub, E.H. Sage, S.E. Funk, Vivek Patel, Deni S. Galileo, and Mary Ann McLane (2007). Inhibition of melanoma cell motility by the snake venom disintegrin eristostatin, Toxicon, 49(7), 899-908.
Muhua Yang, Shalini Adla, Murali K. Temburni, Vivek P. Patel, Errin L. Lagow, Owen A. Brady, Jing Tian, Magdy I. Boulos, and Deni S. Galileo (2009) Stimulation of glioma cell motility by expression, proteolysis, and release of the L1 neural cell recognition molecule. Cancer Cell International, Oct 29;9:27.

Fall 2006: MD-PhD Program, University of Pittsburgh-Carnegie Mellon University School of Medicine.