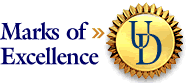 UD Research Facts & Figures
The University of Delaware is classified by the Carnegie Foundation for the Advancement of Teaching as a research university with very high research activity, a designation accorded to fewer than three percent of the more than 4,600 degree-granting institutions in the United States. Rich in heritage and innovation, UD traces its origins to a small school in New London, Pennsylvania, opened by the Rev. Dr. Francis Alison in 1743. Among its first class were three young men who would later go on to sign the Declaration of Independence and one who would sign the U.S. Constitution.

Today, over 1,000 students participate in undergraduate research each year and just over 3,700 graduate students are involved in research and scholarship across the University's seven colleges and more than 70 research centers and institutes. In 2013-14 there was a total of 1,590 funded graduate students, and of these students, 905 were classified as research assistants. Our distinguished faculty include: Nobel laureates, members of the National Academy of Sciences and National Academy of Engineering, and Guggenheim and Fulbright Fellows, to name only a few.

UD Sponsored Programs exceeded $200 million in FY 2014.
Sponsored Program Expenditures

Research Expenditures by Sponsor