The University of Delaware is advancing leading-edge research that solves mysteries, tackles problems, and invents new technologies - all aimed at enhancing our quality of life. UD has distinguished faculty, capable staff, and outstanding students, supported by state-of-the-art facilities. Join us as we explore the latest frontiers in science, engineering, business, the arts, and humanities. Your adventure starts here!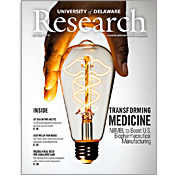 New issue of University of Delaware Research magazine now available
The latest issue of the University of Delaware Research magazine highlights how the National Institute for Innovation in Manufacturing Biopharmaceuticals (NIIMBL), now headquartered at UD, is transforming medicine as we know it to speed the production of safe, effective drugs from living cells.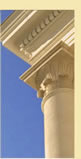 It is our office's mission to encourage and support the research, scholarship, and creative activity of UD's faculty, staff, and students. This Web site is designed to provide practical information to UD researchers, as well as offer the public an exciting gateway to UD's latest discoveries, inventions, and K–12 classroom resources. Visit often!