Homecoming Court
The 2014 Homecoming Court:
Members of the Class of 2015 who embrace UD spirit and embody the UD brand are encouraged to apply for Homecoming Court. Five male and five female students will be selected as members of Homecoming Court and will campaign to gain votes to be elected Homecoming King and Queen. The crowning of the winners will take place on Saturday, October 18 at the football game. Click here for application details.
Meet the 2014 Homecoming Court Finalists
| | |
| --- | --- |
| Homecoming King Finalists | |
---
The 2013 Homecoming King & Queen are
Kye-Hyun Cho and Cynthia Costello, respectively
"During my time at UD, I was always a proud and enthusiastic Blue Hen. Since graduation, it has become even more apparent to me how incredibly fortunate we are to have attended the University of Delaware. UD helped us to grow as individuals, meet our best friends, and create memories that will last a lifetime. Homecoming is a time for Blue Hens across the world to return and celebrate who we are, where we have traveled, and what we have learned. No matter how much time passes, UD will always be our home."
- 2013 Queen, Cynthia Costello
Pictured left are Joyce McLaughlin Newman, the 1963 Homecoming queen, with 2013 king and queen Kye Cho and Cynthia Costello.

The 2013 Homecoming court members were Brie Gerry, Ashley Paulos, Erica Santos and Stephanie Schmidt.
Are you a UD alumnus or alumna and was part of the Homecoming Court as a student? We would love to hear from you and include you here! Please touch base with Michael Yancey in the Office of Alumni Relations at myancey@udel.edu or call 302-831-2341.
Here are a few past winners:
Homecoming 1955 – Sylvia Field Stout (Queen)
Homecoming 1960 – Barbara Tomlin Ray (Queen)
Homecoming 1963 – Joyce McLaughlin Newman (Queen)
Homecoming 1964 – Marilyn Mayfield Pennella (Queen), D. Marie Chelly (Court)
Homecoming 1965 – Valerie Biden-Owens (Queen), Sandra Shank (Court)
Homecoming 1966 – Judith Scari Jeffcotti (Queen), Judith A. Motson (Court)
Homecoming 1969 – Regina K. Pearce (Queen), Cheryl L. Hunter (Court)
Homecoming 1983 – Laura Lefelar-Barch (Queen) and Paul Scully (King)
Homecoming 1985 – Kristen Shannon Price (Queen) and Chris Homan (King)
Homecoming 1987 – Elisabeth Goehringer Gallagher (Queen) and Jamie Varner (King)
Homecoming 1988 – Kristin LaMotta Schappell (Queen) and Patrick McIntyre (King)
Homecoming 1990 – Kris Sotir Martinson (Queen)
Homecoming 1993 – Genikwa William (Queen) and John O'Keefe (King)
Homecoming 2012 – Jennifer Lowe (Queen) and Sam Katz (King)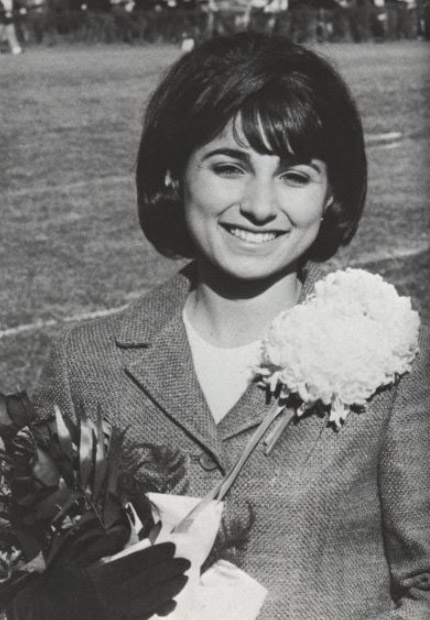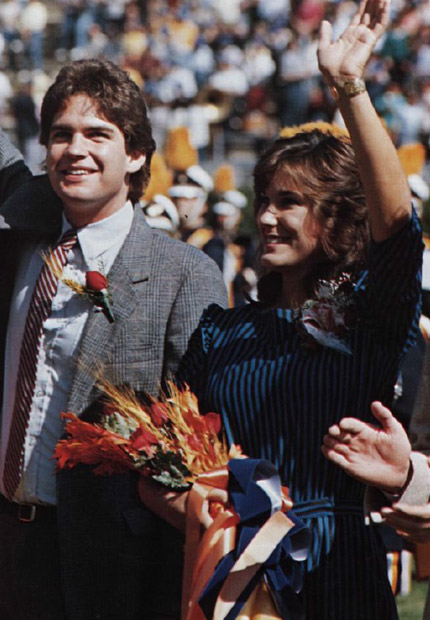 (Left) 1966 Homecoming Queen, Judith Scari Jeffcott '67
(Right) 1983 Homecoming King & Queen, Paul Sculley '84 and Laura Lefelar-Barch '86