UD students tout the power of fruit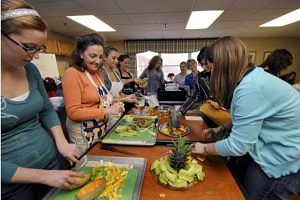 Seniors go beyond an apple a day – how about some honeydew?
By EDWARD L. KENNEY • The News Journal • December 5, 2010
Margaret Murray, a resident at the Millcroft senior living community north of Newark, plucked grapes off a skewer and ate them as she sat with other seniors during a demonstration about making edible fruit arrangements.
"Why don't you make it first and then you can eat it?" said Chris Collins, assistant executive director of the facility, home to 190 residents.
Murray, who loves fruit, could not help herself.
"I want to stay healthy," she said. "I'm 95. Maybe I'll make it to 100."
The 15 University of Delaware nutrition and dietetics majors who visited Millcroft on Thursday could only hope the other dozen or so seniors at the demonstration were as like-minded.
Collins, a 2002 UD graduate who majored in dietetics, invited his former professor and her students to Millcroft to have some fun with the arrangements and talk to the seniors about the importance of eating fruit.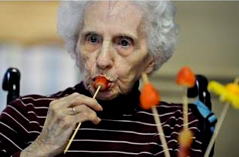 "What we found out is that there are a lot of savvy seniors, and they want to find out what it's all about beyond an apple a day," said Nancy Hartmann, a UD senior majoring in nutrition and dietetics -- and at 60, closer in age to many of the residents at the facility than to her fellow students. "They exercise, and they're really concerned about their health."
Hartmann, who was a chemist for 22 years before returning to UD to pursue her new degree, said the elderly are often lacking in vitamin C, and strawberries, oranges and other fruit can benefit them.
Both Collins and Marie Kuczmarski, his former professor, said the students also were on hand to learn something about the seniors and their facility.
Some of the jobs they will be seeking when they graduate could be on the staff of a similar site.
"It gives them exposure to different job opportunities," Kuczmarski said. "But it also gives them experience with a whole spectrum of aging."
Said Collins, "It gives the students an idea how the nursing home works.
"A lot of students don't know what nursing homes are all about. They think it's just a place to keep old people," he said.
The students agreed the visit would be helpful.
"It's good experience in the field, definitely," said senior Kelli Zentkovich, 21, as she cut up fruit for the arrangement.
"Just working with the older population gives you that hands-on experience," said Elisa Scafuto, 20, a junior. "And any experience you have under your belt is beneficial in the long run."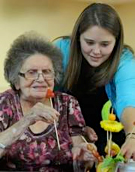 Scafuto talked with the seniors about the nutritious benefits of fruit such as honeydew melons, which are loaded with potassium to help maintain a good blood pressure, and about eating the proper portions.
"One and a half cups of fruit is the daily intake [requirement] for an older adult in a 1,600-calorie diet," she said.
Collins said seniors at the facility sometimes are neglectful about eating properly. Some have dementia and forget to eat or might have a bad mind-set from years of living alone and dining on TV dinners.
Contact Edward L. Kenney at 324-2891 or ekenney@delawareonline.com
PHOTOS: The News Journal/FRED COMEGYS