Academic Dismissal from the University
Questions and Answers
---
1. What does it mean to be dismissed?

Students with 13 or more deficit points normally are dismissed from the University after a review by the Committee on Undergraduate Records and Certification (CURC). CURC is made up of faculty members and administrators representing every undergraduate college at the University. If dismissal occurs, students are not permitted to return as full-time, matriculated (admitted) undergraduates until they lower their deficit points to zero (a 2.0 GPA).
Students receive a "Dismissal Pending" notification, and a final "Academic Dismissal" notification. These notifications are sent by e-mail to their preferred email address in UDSIS and by letter from the Office of the Registrar, to their home address in UDSIS.
2. Why was I dismissed?

Academic Dismissal occurs when a student's Quality Point Deficit (QPD) is greater than a certain value (12.99). Thus, a student with 13 or more deficit points is dismissed. The QPD is based on the relationship between Quality Hours and Quality Points. Courses that carry more credit have more of an impact; for example, a 4-credit F results in more deficits than a 3-credit F. The total number of deficits on your record is an indicator of how many low grades you earned.
3. What are deficit points?
Deficit points are a numerical representation of the severity of a student's probationary status; a deficit begins to accumulate when a student's cumulative grade point average falls below 2.0. Every additional grade below a C will increase the Quality Point Deficit*. On the other hand, grades above a C will erase deficit points.
A student is dismissed when deficit points reach or exceed 13.00. The chart below explains how many quality (positive) and deficit (negative) points are earned for particular grades. Students on Academic Probation can use this chart to estimate how many courses need to be taken and what grades need to be earned in order to decrease deficit points and reach a 2.0 GPA.
*The Quality Point Deficit is determined by subtracting the cumulative number of quality points from twice the cumulative number of quality hours. Quality hours are calculated only for courses receiving grades of A, B, C, D (plus or minus), F, X and Z; courses with Passing grades, Listener, Incomplete, Satisfactory/Unsatisfactory, or Withdrawal, as well as noncredit and remedial courses, are not included in the quality hours total.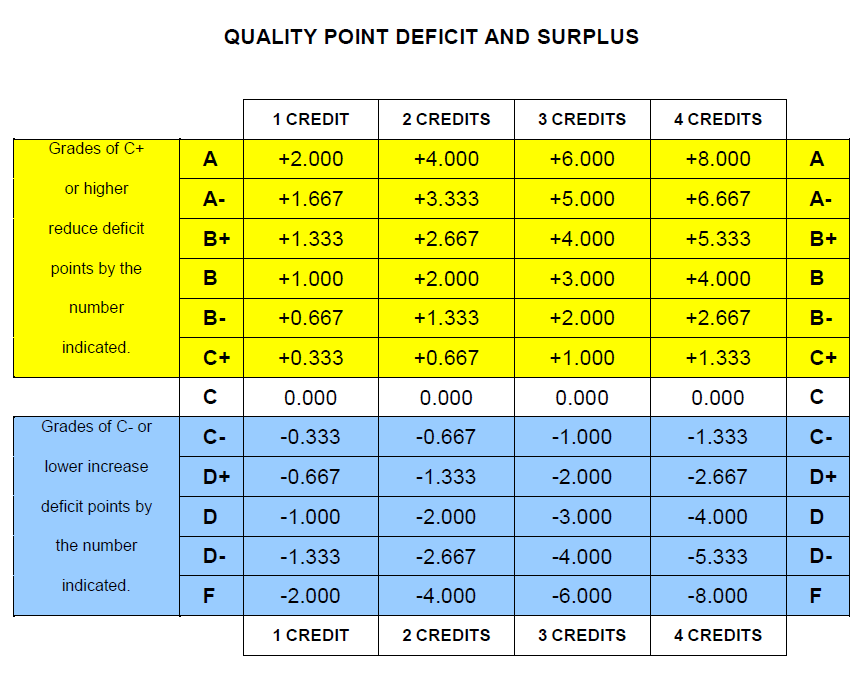 Probation: An undergraduate student with a cumulative G.P.A. below 2.0 is placed on probation provided the quality point deficit is less than 13.00.
Dismissal: A student with a quality point deficit of 13.00 or more will be dismissed from the University pending review by the Committee on Undergraduate Records and Certification (CURC).
4. Are there exceptions to being dismissed?

In some cases, the Committee on Undergraduate Records and Certification (CURC) gives special consideration to students for extenuating circumstances. Extenuating circumstances refer to non-academic concerns that are beyond the control of the student, such as serious illness, death of a parent, employment conflicts or unanticipated, severe personal issues. All circumstances must be thoroughly documented, in writing by a professional (counselor, physician, social worker, etc.) who can judge the impact on the student.
5. How do I let CURC know about my situation?

You (the student) must write a personal letter stating your request and outlining the special circumstances and submit it to your college's Assistant Dean by the deadline listed in your dismissal letter. You also need to provide all pertinent documentation to your case. It is very important to make an appointment to discuss your concerns and your situation with your Assistant Dean who will attend the CURC meeting on your behalf and explain your case to the committee. CURC will notify you in writing of their decision shortly after this meeting.
6. What if CURC dismisses me anyway?

Each case is judged by CURC on its own merit. If CURC confirms your dismissal, you may choose to take classes as a Continuing Education student, though you will be restricted to seven credits per semester. Courses you take as a Continuing Education student will appear on your UD transcript and can be counted toward a degree, in the event that you are able eventually to re-enroll as a degree candidate.
7. What is Special Probation?

Special Probation is an academic status that allows students, who would normally be dismissed, to be retained under certain conditions. The conditions include the stipulation that the student must reduce their deficit points, in some measure, each term they are enrolled. If the quality point deficit increases, or if it fails to decrease, the student will be dismissed the following semester.
8. How do I get back into the University as a full-time student?

A dismissed student may be eligible for readmission to the University when the cumulative GPA is 2.0 or higher. The only way to officially raise your GPA is to take courses at the University of Delaware and do well in those courses. Final grades of C+ and higher will raise your GPA, while grades of C- and lower will reduce your GPA. It is important to consult with the ACCESS Center (advisement office for Continuing Education Students) about appropriate courses to take. Once you have raised your GPA and reduced your deficits, you can apply for readmission to the University of Delaware. Please call the ACCESS Center at (302) 831-8843 to schedule an appointment with an advisor for academic advisement and registration assistance.
9. Can I take courses at another school in order to qualify for readmission?

Taking courses at another institution is not recommended for students attempting to qualify for readmission as those courses will not increase your GPA. Readmission requires evidence that you can succeed at UD, not somewhere else.
10. What about my housing assignment?

Upon confirmation of Academic Dismissal of a student by the Office of the Registrar, Residence Life and Housing will cancel your housing assignment for the upcoming FALL/SPRING semester.
A student who decides to attend the University of Delaware as a Continuing Education student in the upcoming FALL/SPRING Semester is not able to live in the residence halls. Only matriculated students may reside in on-campus housing. Please see the Student Housing Contract for details.
For questions or information, please contact Residence Life and Housing in person at 310 Haines Street, by e-mail at reslife-housing@udel.edu, or by telephone at
11. How about financial aid?

Financial aid usually requires matriculated status. Therefore, most financial aid will be cancelled if you are academically dismissed. Call the Financial Aid office at (302) 831-2126 to discuss your situation.
12. How about my summer or winter classes?

If you are registered for summer or winter classes, your registration is not affected by your dismissal. Please be aware that your academic performance in winter or summer courses will have no impact on the dismissal decision. Therefore, you cannot be readmitted after summer or winter session. Students dismissed for academic deficiency must sit out as a matriculated student at least one full semester (fall or spring) before readmission. If a student is dismissed after fall, readmission cannot occur until the following summer. If a student is dismissed after spring, readmission cannot occur until the following winter. If you decide not to take your winter or summer session courses, you are responsible for dropping the courses. The University makes no assumption that you will not be attending. If you pre-registered for your fall or spring semester, your registration will be cancelled and you will need to re-register for up to seven credits as a Continuing Education student. Call Continuing Education / ACCESS Center at 831-8843 to make an appointment with an advisor for advice and registration assistance.
13. Will I ever be able to earn a degree from the University of Delaware?

You should consider dismissal a valuable learning experience. Evaluate your study habits, time management skills, and course selection. Take advantage of all the resources on campus to help you be a successful student. Consult with an advisor and academic assistant dean often and seek their guidance. Many students achieve readmission each semester and are successful in earning a degree.
14. What if I have more questions?

Please contact your college's Assistant Dean.