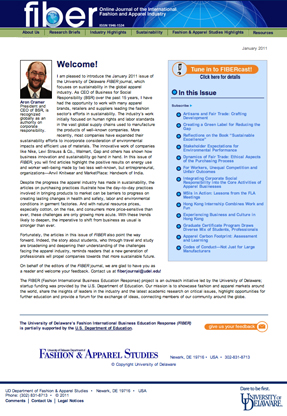 FIBER archive
Please select an issue below:

January 2011

January 2010

July 2009

January 2009

July 2008

January 2008

Privacy policy: The University of Delaware is committed to protecting the privacy of your personal information in the digital environment. All subscriber information will be kept confidential and will not be disclosed, sold, transferred, or shared.
Welcome to the
FIBER
online journal. Developed by researchers at the University of Delaware,
FIBER
stands for the "Fashion International Business Education Response" project. It is funded by the U.S. Department of Education.
The FIBER journal's mission is to showcase fashion and apparel markets around the globe, share the insights of leaders in the industry and the latest academic research on critical issues, highlight opportunities for further education, and provide a forum for the exchange of ideas, connecting members of our community around the globe.

This Web page is a portal to the FIBER online journal, which is published twice a year. By signing up as a subscriber to the free journal, you will automatically receive e-mail notification when a new issue becomes available. For more information, please contact fiberjournal@udel.edu.
---
The FIBER journal (ISSN 1946-1534) is produced by an editorial team from the University of Delaware Department of Fashion and Apparel Studies, the Center for International Studies, and the Office of Communications and Marketing's Research Communications Initiative.
Hye-Shin Kim, Project Director and Editor
Marsha Dickson, Co-Project Director
Sharron Lennon, Co-Project Director
George Irvine, Managing Editor
Ann Manser, Contributing Editor
Vivianna Bermudez, Web Graphic Designer
Daniel Wright, Production Coordinator