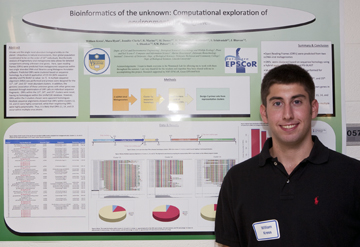 Bioinformatics of the unknown: Computational exploration of environmental viral genes
William Kress

1,

Mara Hyatt

2,

Jennifer Clarke

3, Rachel Marine, Michael Dumas, Megan Furman, Sanchita Jamindar,
Sharath Srinivasiah, Jaysheel Bhavsar, Sandeep Kumar,

Shawn Polso

n, and K. Eric Wommack
Department of Civil and Environmental Engineering1, University of Delaware, Delaware Technical and Community College2,
Department of Biological Sciences3, Lincoln University
Viruses are the single most abundant biological entity on the planet. Ubiquitous in natural environments, their global population is estimated to be on the order of 1031 individuals. Bioinformatic analysis of fragmentary viral metagenome data allows for detailed comparisons among unknown viral genes. Here, open reading frames (ORFs) were predicted from metagenomic sequences within two single stranded DNA viral libraries using Metagene Annotator software. Predicted ORFs were clustered based on sequence homology, by a hybrid application of CD-Hit (60% sequence identity) and PSI-BLAST (e-value: 1e-7). A multiple sequence alignment (MSA) was performed and primers were designed for the 14th, 19th, and 20th most abundant clusters. In addition, the genomic association of these unknown genes with other genes was assessed through examination of ORF calls on individual sequence fragments. ORFs within the 19th most abundant cluster were homologus to a ssDNA-binding protein of T7-like podoviruses infecting cyanobacteria, while the 14th and 20th most abundant clusters were novel, having no homologs within the UniRef 100 database. The peptide sequence of the representative ORF from cluster 19 was significantly shorter than other known ssDNA-binding proteins from T7-like podoviruses. It remains to be determined if this demonstrates a novel protein or an error in the Metagene annotation. Multiple sequence alignments showed that while ORFs within clusters 14, 19, and 20 were highly conserved, while their neighboring ORFs were highly polymorphic. Thus, it is likely that ORFs 14, 19, and 20 occur within multiple virus strains. Research funded by NSF EPSCoR.