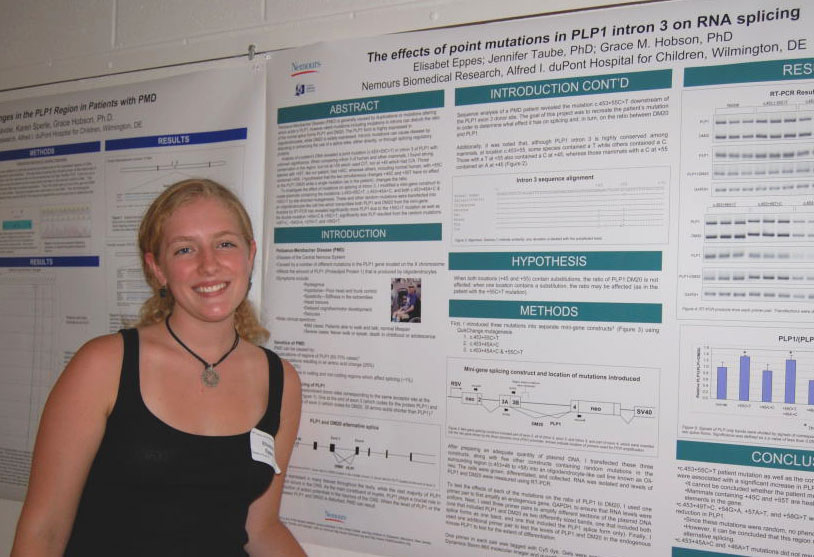 The effects of point mutations in PLP1 intron 3 on RNA splicing
Elisabet Eppes, Jennifer Taube, and Grace Hobson
Alfred I. duPont Hospital for Children
Pelizaeus-Merzbacher Disease (PMD) is generally caused by duplications or mutations altering amino acids in PLP1, however silent mutations including mutations in introns can disturb the ratio of the normal splice forms PLP1 and DM20. The PLP1 form is highly expressed in oligodendrocytes, while DM20 is widely expressed. Intronic mutations can cause disease by disturbing or enhancing the use of a splice site, either directly, or through splicing regulatory proteins. Analysis of a patient's DNA revealed a point mutation (c.453+55C>T) in intron 3 of PLP1 with unknown significance. When comparing intron 3 of human and other mammals, I found strong conservation in the region, but not at +55 which used C/T, nor at +45 which had C/A. Those species with +55T, like our patient, had +45C; whereas others, including normal human, with +55C contained +45A. I hypothesize that the two simultaneous changes +45C and +55T have no effect on the PLP1:DM20 while a single mutation (as in the patient), changes the ratio. To investigate the effect of mutations on splicing of intron 3, I modified a mini-gene construct to create plasmids containing the mutations: c.453+55C>T, c.453+45A>C, and both c.453+45A>C & +55C>T by site-directed mutagenesis. These and other random mutations were transfected into an oligodendrocyte-like cell line which transcribes both PLP and DM20 from the mini-gene. Analysis by RT-PCR has revealed significantly more PLP due to the +55C>T mutation and significantly less PLP due to a random mutation at +58.