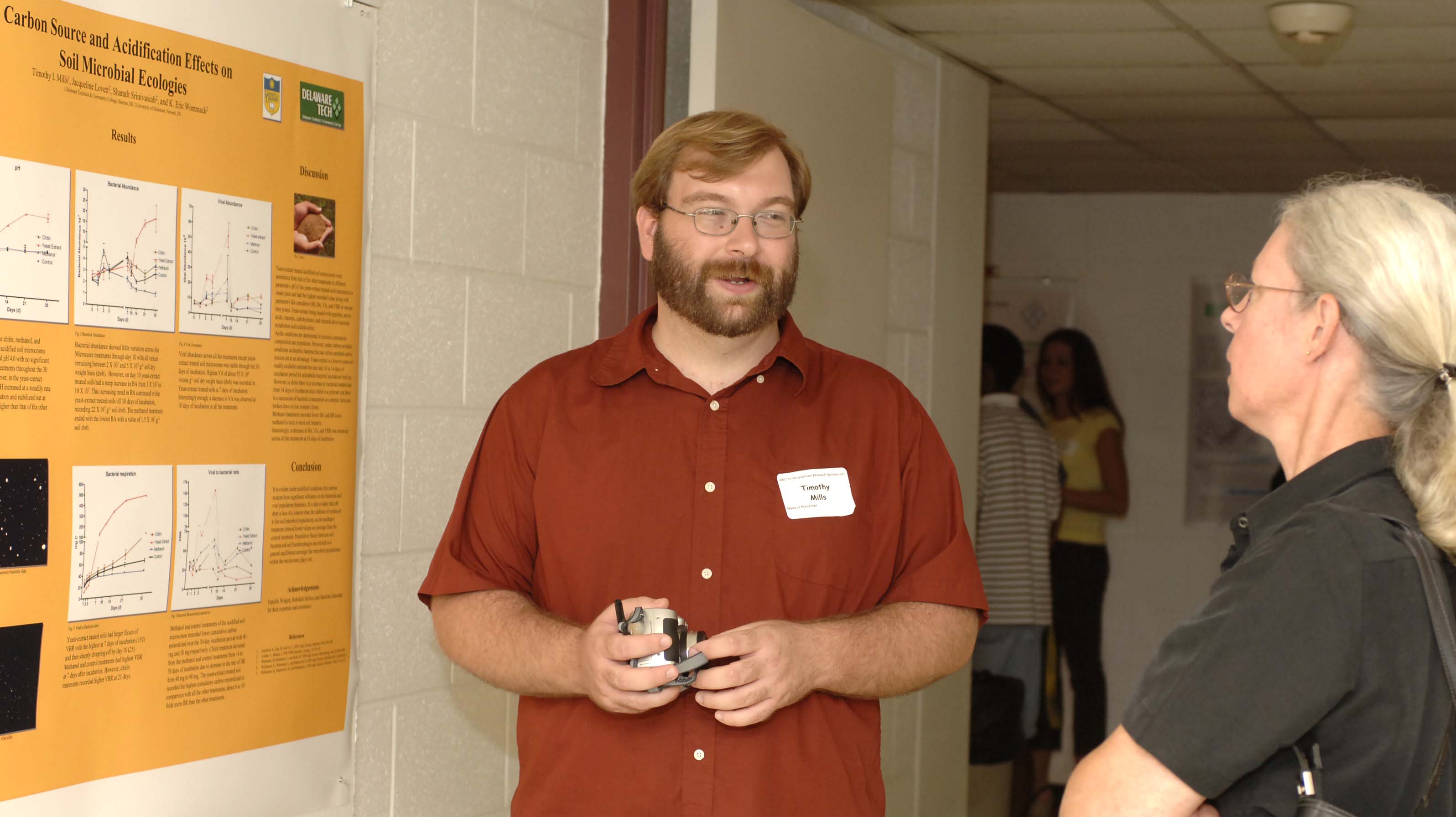 Carbon Source and Acidification effects on Soil Microbial Ecologies
Timothy I. Mills
1
,
Jacqueline Lovett
2
, Sharath Srinivasiah
2
, and
K. Eric Wommack
2

1
Delaware Technical & Community College, Stanton, DE
2
.University of Delaware, Department of Plant and Soil Sciences, Newark, DE.
Soils are complex medium that are influenced by various intricately linked biotic and abiotic processes. One such critically important, but as yet unknown relationship is between soil pH, carbon sources, and bacterial and viral population dynamics. What are the effects of acidification on soil bacterial and viral assemblages? Do carbon sources play a role even under these adverse conditions? To investigate the magnitude of the impact of acidification on soil microbial ecologies, soils from the University of Delaware agricultural fields were acidified and incubated for 30 days in microcosms that received various carbon treatments viz., chitin, yeast extract, and methanol. Bacterial abundance (BA), viral abundance (VA), pH, and bacterial respiration (BR) were quantified throughout the incubation. The yeast-extract treatment was the most effective carbon source as expected, even under these adverse conditions. These treatments recorded highest BR, highest BA at 30 days, as well as the highest VA, and highest viral to bacterial ratio (VBR) after 7 days of incubation. However, BA did not increase until 10 to 14 days. Also, pH of the yeast-extract treated soils increased over time by one unit. Chitin treatments showed an increased rate of carbon mineralization starting at 14 days. This polymeric carbon source was broken down to less complex forms and then used by a wide array of acidophilic chitin degraders. Methanol treatments had lower BA and BR in comparison with other treatments. At 10 days of incubation all the treatments showed a decrease in BA, VA, and VBR. Supported by EPSCoR and INBRE.