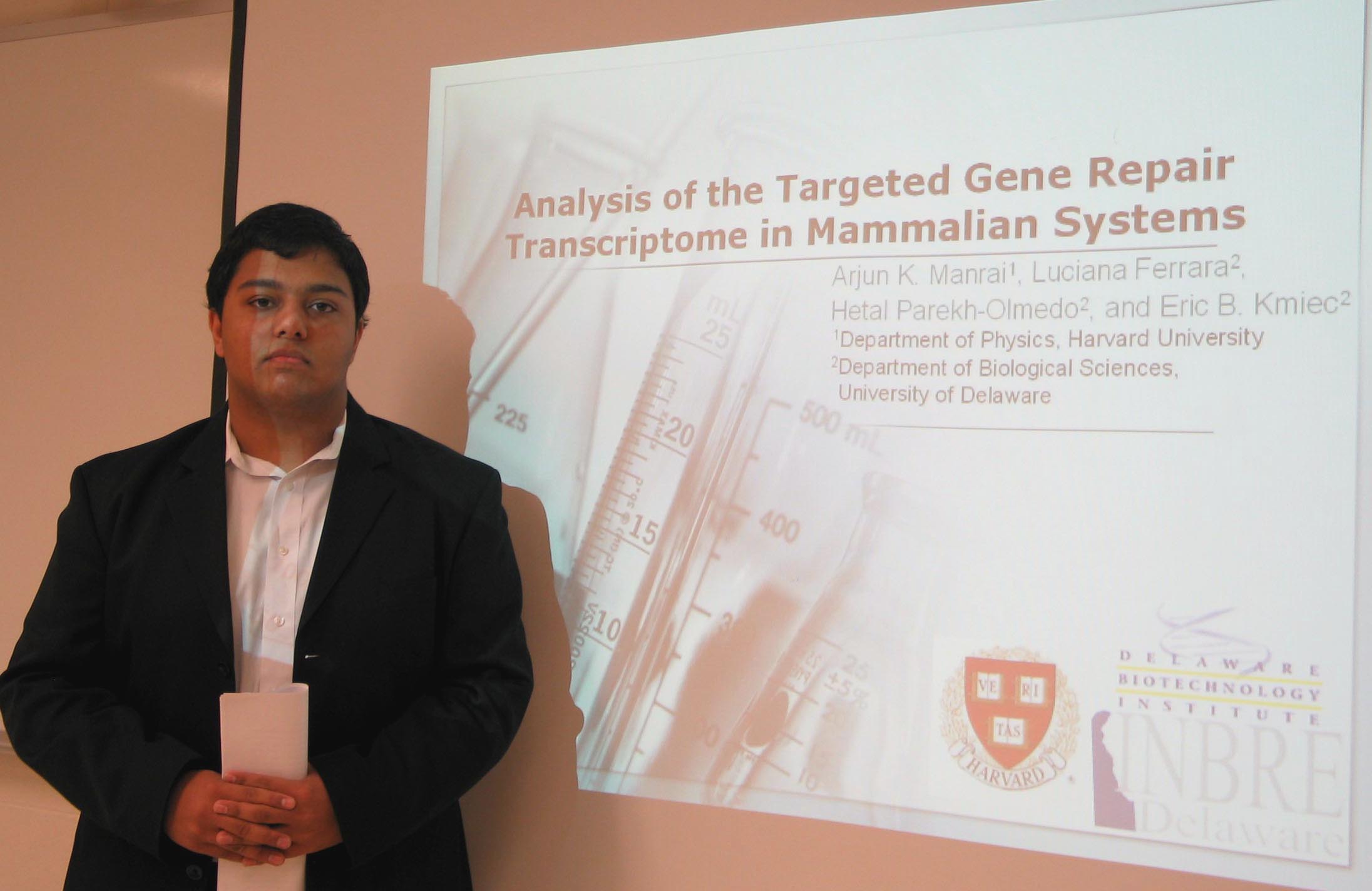 Analysis of the Targeted Gene Repair Transcriptome in Mammalian Systems
Arjun K. Manrai
1
, Luciana Ferrara
2
, Hetal Parekh-Olmedo
2
, and
Eric B. Kmiec
2
1
Department of Physics,
Harvard
University
,
2
Department of Biological Sciences,
University of Delaware
Targeted Gene Repair is the process in which a modified single-stranded oligonucleotide directs the exchange of a single mutated DNA base. This correction is site-specific, utilizing the cell's endogenous repair mechanisms. Upon correction induced by the oligonucleotide, many corrected cells cease active replication, and key proteins of senescence pathways have been implicated through increased activation. We perform the gene repair reaction on DLD-1 cells and carry out microarray analysis using cell-cycle specific oligonucleotide microarrays to profile the transcriptome of gene-repaired cells at 8, 24, and 48 h. After mathematically correcting for background and normalizing the data, we employ biocomputational tools and analyses to construct a regulatory model and explain the response of cells to gene repair. We then use insight gleaned from this experiment to develop and implement a framework for further transcriptional analysis of targeted cells. Specifically, we create and program a model for global expression analysis of targeted cells to be used on data obtained from (Affymetrix) transcriptome-wide arrays, capturing more than 47,000 transcripts. The framework integrates the latest probe-mapping, normalization algorithms, cluster analysis, ontological information, motif finding, and pathway systems-level information into a pipeline for the upcoming analysis. Moreover, we tailor our pipeline to be specifically adapted to future large-scale gene repair microarray experiments using information obtained from the DLD-1 study, by developing computational tools to extract and compile pathway-specific data. This is the first study to obtain and analyze transcriptional profiles of targeted DLD-1 cells and use these analyses for an integrated framework and we hope that, in addition to providing information about the observed regulatory pathways of targeted cells in vitro, this work provides valuable insight for future in vivo gene repair applications. This project was supported by NIH NCRR INBRE grant to Delaware, grant number 2P20RR016472-04, and NIH grant RO1 CA89325.