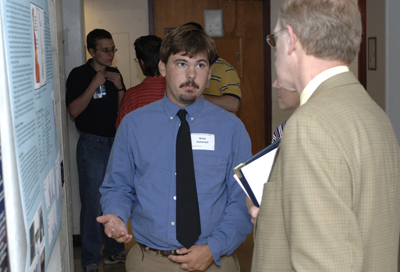 Land Use Effects on Water Quality in Delaware

Brian Demarest
1
, Susan E. White-Hansen
2
,
David J. Hansen
3
, and Bruce Allison
4

1
Wesley College,
2
Geographic Information Specialist, Research and Education Center, Georgetown, Delaware,
3
Delaware Assistant
Professor, Department of Plant and Soil Sciences,
4
Environmental Studies, Wesley College, Dover, Delaware
Water is a critical resource in Delaware for agriculture, rural water supplies, and the tourism industry.

However, most of the state's surface waters are not meeting federal or state water quality criteria.

As the state's population increases there are increasing pressures on the water resource from numerous sources, including housing developments and wastewater treatment facilities.

In July, 2005 a project was initiated that involves collecting water samples upstream and downstream of ten locations; four suburban sites and six wastewater treatment sites.

Water samples have been collected bi-monthly since August, 2005.

Field measurements include stream flow rate, temperature, dissolved oxygen, pH, total dissolved solids, and conductivity.

Laboratory measurements include the major macro and micro nutrients. Results from this project will help to evaluate the impact of housing developments and wastewater treatment facilities on surface water quality in Delaware.

To date more than two hundred and fifty usable data points have been collected.

Initial results indicate tremendous variability in water quality among both the suburban sites and the wastewater sites.

This variability suggests that factors upstream, such as pollutant sources or natural inputs, are an important consideration.

In general, wastewater sites have shown significantly larger changes in upstream versus downstream impacts than suburban sites for the following properties: pH, conductivity, boron, sulfur, and iron.

This work will continue in 2006/2007.

Funding and support provided the Mid-Atlantic Water Quality Program at the University of Delaware and the Experimental Program to Stimulate
Competitive Research (EPSCoR) through the University of Delaware and Wesley College.