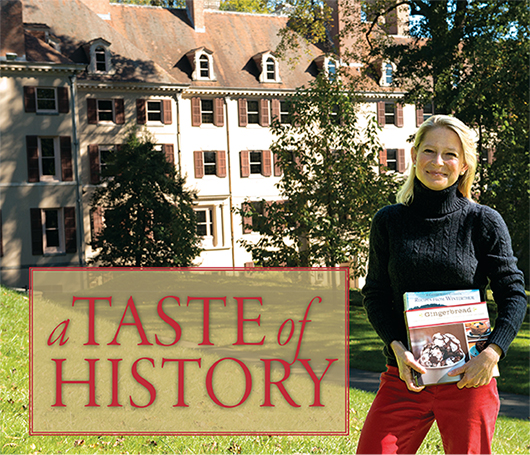 Photo by Lane McLaughlin
ALUMNI | If you've ever wanted to sample oyster soup the way George Washington enjoyed it, or Thomas Jefferson's sweet potato biscuits, or any of the traditional dishes served at lavish Winterthur dinner parties when the Delaware mansion was still a family home, you might consult Jennifer Lindner McGlinn.
McGlinn, AS01M, is not only a contemporary food writer but also a chef, author and historian who specializes in material culture, particularly as it relates to food. Her current career—combining writing for magazines, authoring or co-authoring books, consulting and occasional catering or cooking demonstrations—reflects her longtime interests and educational background.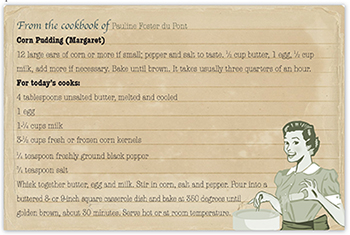 "Everything I do is food-related, some of it historic and some not," she says. "One way or another, it's all art, history, food and culture."
With an undergraduate degree in art history from the University of Pennsylvania, she went on to earn degrees at the Culinary Institute of America and then to work as the editor of a magazine for professional chefs. After a few years, she says, she missed academia and, with her lifelong interest in "stuff" and a fascination with public television's Antiques Roadshow, she moved back to the Delaware area and enrolled in UD's Winterthur Program in American Material Culture to earn a master's degree.
But her graduate work there didn't mean that she forgot her culinary interests and training. She focused her graduate work on the dining and entertaining hosted by Henry Francis du Pont at Winterthur, where he lived until his death in 1969. He was the last private owner of the mansion, which he opened to the public as a museum in 1951.
As McGlinn researched such aspects of material culture as the china and dining room furnishings at Winterthur, she also studied a hand-written book of recipes that had been compiled in the late 1800s by H.F. du Pont's mother, Pauline. After her death, her son continued to rely on those recipes—gathered from friends and family as well as from the traditional French cooking that was in vogue at the time—as he planned elaborate luncheons and dinner parties at the estate.
In addition to McGlinn's graduate thesis, Pauline du Pont's personal recipes also proved useful when Winterthur produced a community cookbook in 2007. Although most recipes in A Country Estate Cookbook: Recipes From Winterthur are modern, each section opens with a contribution from McGlinn, in which she reproduces one of Pauline du Pont's recipes and also rewrites it in a way that can be used by contemporary cooks.
"Now a fragile mass of faintly lined yellowed pages bound with a red leather spine and marbleized covers, Pauline's recipe book was once a vibrant manuscript—a lively and ever-changing receptacle for innovative and time-honored dishes," McGlinn wrote in one of the book's introductions.
The Winterthur cookbook is just one of many on which McGlinn has worked. She has co-authored several chef books, including The City Tavern Baking & Dessert Cookbook (with Walter Staib, chef and owner of City Tavern Restaurant in Philadelphia), Black Forest Cuisine (with Staib) and Delilah's Everyday Soul (with Delilah Winder) and is the author of Gingerbread: Timeless Recipes for Cakes, Cookies, Desserts, Ice Cream, and Candy, published in 2009.
Her history-focused work has included editing recipes for and contributing to Dining at Monticello and The Mount Vernon Cookbook. Writing notes that place old recipes in their historical context is one of the most interesting types of food writing she does, McGlinn says.
For example, she says, a writer might contribute an authentic recipe using cherries. McGlinn's role would be to ask questions to add detail to the recipe notes: Were cherries grown on this particular farm? Does the dish take long to make? How would it have been served? What other foods would have been on the menu with it?
"I learn a lot from that process, and the notes are really fun to write," she says. "That's what tells you the whole story."
Article by Ann Manser, AS73