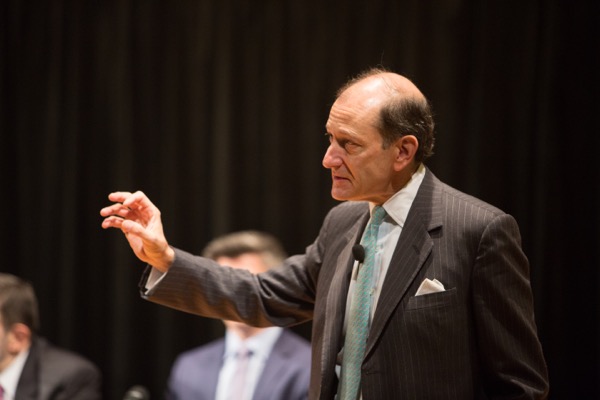 Oct. 8: 'Government as Regulator'
Exploring government's regulatory impact on financial institutions and other corporations
12:43 p.m., Sept. 14, 2015--Next month a distinguished group of thought leaders will visit the University of Delaware to discuss how government regulation impacts financial institutions and corporations in today's world.
On Thursday, Oct. 8, the John L. Weinberg Center for Corporate Governance at UD's Alfred Lerner College of Business and Economics will partner with The Clearing House Association to present "The Government as Regulator and/or Shareholder – The Impact on Director Duties: The Effect of Regulatory Mandates on Financial Institutions and Other Regulated Corporations in the Post Dodd-Frank Era."
June 5: Blue Hen 5K
University of Delaware graduates planning to attend Alumni Weekend are encouraged to register for the annual Blue Hen 5K walk and run, which will be held Sunday morning, June 5.
June 6-9: Food and culture series
The 20th annual June Lecture Series at the Osher Lifelong Learning Institute at UD in Wilmington will be held June 6-9. Titled 'June a la Carte,' this year's program focuses on great political documents, feminism, world politics and a Newark cuisine sampler.
Hosted in Gore Recital Hall in the Roselle Center for the Arts from 9:30 a.m.–noon, the event will feature experts in corporate governance, financial services and law.
Topics for discussion will include: 
The interplay between the board's duties under corporate law and emerging expectations of regulators and other stakeholders;
Interaction between supervisors and boards; and
The duties of directors of regulated institutions experiencing financial distress. 
Confirmed panelists and speakers include the following:
Rolin P. Bissell, partner, Young Conaway Stargatt & Taylor LLP
Amy Borrus, interim executive director, Council of Institutional Investors
Laban P. Jackson, Jr., chairman and CEO, Clear Creek Properties Inc. and director, JPMorgan Chase & Co.
Peter A. Langerman, chief executive officer, Franklin Mutual Advisers LLC
Giovanni P. Prezioso, partner, Cleary Gottlieb Steen & Hamilton LLP
William R. Rhodes, president and CEO, William Rhodes Global Advisors LLC; senior adviser, Citi and professor-at-large, Brown University
Edward B. Rock, Saul A. Fox Distinguished Professor of Business Law, University of Pennsylvania Law School
Gregg L. Rozansky, managing director, The Clearing House
Mary Schapiro, advisory board vice chair, Promontory Financial Group LLC and former chairman, U.S. Securities and Exchange Commission
Collins J. Seitz, Jr., justice, Supreme Court of Delaware
Michael M. Wiseman, partner, Sullivan & Cromwell LLP
The moderator will be Charles M. Elson, director of the Weinberg Center and Edgar S. Woolard, Jr., Chair in Corporate Governance and professor of finance in the Lerner College.
To register for "The Government as Regulator," click here.
Those with questions should contact Louisa Cresson of the Weinberg Center at lcresson@udel.edu or The Clearing House events staff at association.events@theclearinghouse.org.