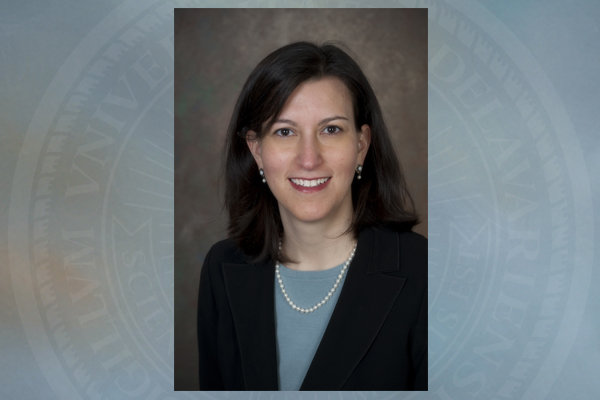 ELATE Fellow
Davidson participating in national leadership program for women in STEM
12:46 p.m., Sept. 2, 2015--Rachel Davidson, professor of civil and environmental engineering at the University of Delaware, is one of 31 women nationwide selected for the Executive Leadership in Academic Technology and Engineering (ELATE at Drexel) program's Class of 2015-16 fellows.
ELATE at Drexel focuses on increasing leadership and resource management skills among women faculty in science, technology, engineering and mathematics (STEM) fields. Participants are expected to contribute to institutional initiatives as they expand their leadership skills. 
National Medal of Science
President Barack Obama recently presented the National Medal of Science to University of Delaware alumnus Rakesh Jain.
Warren Award
Rosalind Johnson, assistant dean for student success in the NUCLEUS Program in UD's College of Arts and Sciences, was presented the John Warren Excellence in Leadership and Service Award during a May 26 ceremony.
Davidson was also recently named interim associate dean for faculty affairs in the College of Engineering while associate dean Pam Cook is on sabbatical.
"These two appointments are dovetailing nicely for me," Davidson says. "Through my ELATE institutional change project, I plan to focus on the subject of dual-career couples in academia, and my position as interim associate dean in engineering will provide the perfect platform for looking at the various issues surrounding that topic."
Nationally, dual-career couples have become quite common in higher education. According to a survey by Stanford University's Clayman Institute, 72 percent of the full-time faculty at U.S. research universities have partners working outside the home, divided equally between academia and other sectors. Of the faculty surveyed, 10 percent were "trailing spouses" with their partners.
"Research shows that job opportunities for the partners of recruited faculty are key to successful recruitment and retention," Davidson says. "Over the course of the year, I plan to learn more about best practices for addressing the challenge, and what else we can do here at UD in terms of policies and support programs."
Davidson's participation in ELATE is supported by the College of Engineering, the Office of the Provost and UD ADVANCE.
"We need more women in higher-education leadership positions," says engineering dean Babatunde Ogunnaike, who is mentoring Davidson's participation in ELATE. "A more diverse administration leads to a more diverse institution, which provides a better environment for all of us."
"In addition, female leaders can serve as mentors and role models to young women starting careers in academia. As a senior faculty member, Rachel is an ideal candidate for this type of professional development experience, as it will enable her to learn more about the administrative workings of the University and prepare her to take that next step in her career if she is interested in a leadership position."
About the Professor
Davidson received her bachelor of science degree from Princeton University and her master's degree and doctorate from Stanford University. 
She joined the UD faculty in 2007 following faculty positions at the University of North Carolina, Charlotte, and Cornell University. Her primary research interests are in risk analysis and disaster research, and she is a core faculty member in UD's Disaster Research Center.
Davidson is a fellow of the Society for Risk Analysis, and she served as president of that society from 2010-11. From 2011-13, she was chair of the executive committee of the American Society of Civil Engineers (ASCE) and the Technical Council of Lifeline Earthquake Engineering (TCLEE).
About ELATE at Drexel
ELATE at Drexel is a core program of the International Center for Executive Leadership in Academics within the Institute for Women's Health and Leadership at Drexel University College of Medicine in Philadelphia. 
The year-long program is launched with online assignments and community-building activities, includes three week-long, in-residence sessions during the year, and concludes with a symposium organized around the participants' institutional change projects. 
For more information on the ELATE curriculum, facilitators, and participants, visit the website.
 Article by Diane Kukich