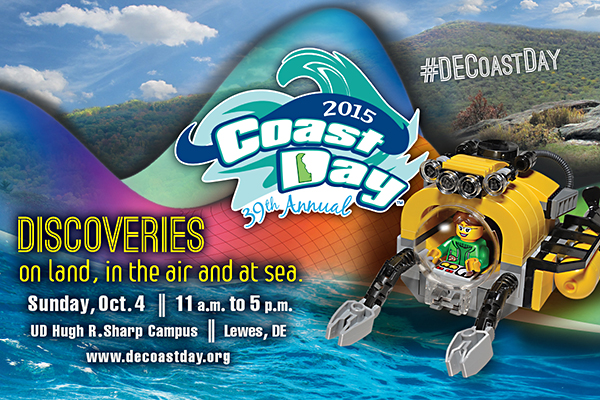 Oct. 4: Coast Day 2015
'Discoveries on land, in the air and at sea' theme of 39th annual Coast Day in Lewes
8:05 a.m., Sept. 21, 2015--The 39th annual Coast Day returns on Sunday, Oct. 4, from 11 a.m. to 5 p.m., rain or shine, at the University of Delaware's Hugh R. Sharp Campus in Lewes.
This year's theme, "Discoveries on land, in the air and at sea," encourages attendees to consider the different methods scientists use to study coastal environments, while exploring ways that they, as citizens, can get involved, too.
June 5: Blue Hen 5K
University of Delaware graduates planning to attend Alumni Weekend are encouraged to register for the annual Blue Hen 5K walk and run, which will be held Sunday morning, June 5.
June 6-9: Food and culture series
The 20th annual June Lecture Series at the Osher Lifelong Learning Institute at UD in Wilmington will be held June 6-9. Titled 'June a la Carte,' this year's program focuses on great political documents, feminism, world politics and a Newark cuisine sampler.
Cyclops 1, a manned submersible that exemplifies the Coast Day theme, will be on display as a special feature during this year's family-friendly event. CEOE is hosting the OceanGate manned submersible on the Lewes campus during the fall semester, with dives scheduled for later this season.
Other highly anticipated exhibits at the event, presented by the College of Earth, Ocean, and Environment (CEOE) and Delaware Sea Grant, include tours of CEOE's Robotics Discovery Laboratory, which is home to advanced robotic technologies such as autonomous underwater and aerial vehicles used for leading edge environmental research. 
The fan-favorite Lego model ship exhibit presented by TEACH FLEET (Technology's Effects and Contributions Highlighted for Learning Ecological Environmental Topics) also returns this year. Created by former ship designer Wilbert McKinley, TEACH FLEET presents a diverse collection of Lego model ships intended to educate and engage students interested in pursuing a future in science, technology, engineering and mathematics (STEM) fields. 
The newest addition to McKinley's Lego fleet is a model of UD's state-of-the-art research vessel, the R/V Hugh R. Sharp. The Sharp model will remain on display on the Lewes campus during and after Coast Day, through generous sponsorship from the Delaware Municipal Electric Corporation (DEMEC).
Other Coast Day events
Contests and events at this year's coast day range from a delectable crab cake cook-off, to an oyster shucking contest, to a live musical performance, and more. 
Critter touch tanks provide a fun, educational opportunity for families and kids to get an up-close look at sea creatures, including dogfish sharks and horseshoe crabs.
Rounding out the day, participants can wander through tents featuring educational exhibits, tour research vessels, enjoy research presentations by CEOE faculty on environmentally relevant topics, and visit informational displays by local partners. 
Follow along on social media with the hashtag #DECoastDay.
Transportation from Newark
Free bus transportation from Newark to Lewes is available for UD students, employees and members of their immediate family on Coast Day.
To reserve a seat, contact the Environmental Public Education Office by phone at 302-831-8083 or by email at CEOE-epe@udel.edu.