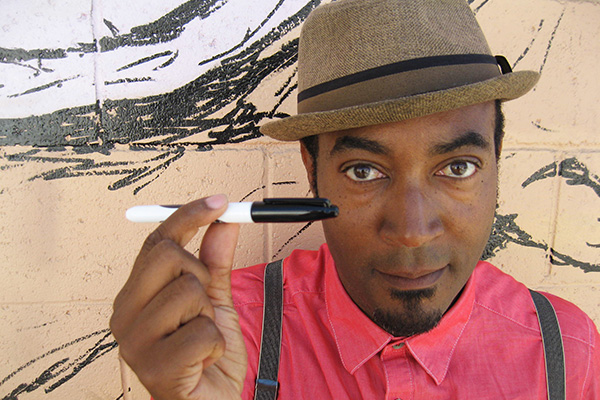 Nov. 4: National Agenda
Political cartoonist Keith Knight to speak in 'Race in America' series
1:15 p.m., Oct. 30, 2015--Noted political cartoonist Keith Knight will be featured Wednesday, Nov. 4, as part of the University of Delaware's National Agenda series on "Race in America: Conversations about Identity and Equality."
Knight will speak beginning at 7:30 p.m. in Mitchell Hall on the UD campus in Newark.
June 5: Blue Hen 5K
University of Delaware graduates planning to attend Alumni Weekend are encouraged to register for the annual Blue Hen 5K walk and run, which will be held Sunday morning, June 5.
June 6-9: Food and culture series
The 20th annual June Lecture Series at the Osher Lifelong Learning Institute at UD in Wilmington will be held June 6-9. Titled 'June a la Carte,' this year's program focuses on great political documents, feminism, world politics and a Newark cuisine sampler.
His talk will feature his artwork over the last 20 years and is titled "They Shoot Black People, Don't They?"
The presentation, which will be moderated by Lindsay Hoffman, associate professor in UD's Department of Communication and associate director of the Center for Political Communication, is free and open to the public. 
Knight is the creator of three popular comic strips: the Knight Life, (th)ink, and the K Chronicles. 
His art has appeared in publications worldwide, including the Washington Post, Salon.com and Ebony. 
About the series
The 2015 National Agenda series includes six speakers and four films designed to stimulate conversations about equality and identity, all scheduled at 7:30 p.m. on Wednesdays in Mitchell Hall on the UD campus in Newark. Presentations are free and open to the public.
The director of the series is Lindsay Hoffman, associate director of UD's Center for Political Communication.
National Agenda includes both speakers and films. The next film screening will feature The People's Report, and a question-and-answer session with the director, Yasser Arafat Payne, UD associate professor in the Department of Black American Studies, on Nov. 11. 
The final speaker in the series will be Redditt Hudson, former St. Louis police officer and co-founder of the National Coalition of Law Enforcement for Justice, Reform and Accountability, on Nov. 18.
National Agenda is supported by the College of Arts and Sciences, the Office of the Provost, the Center for the Study of Diversity and the William P. Frank Foundation of Delaware.