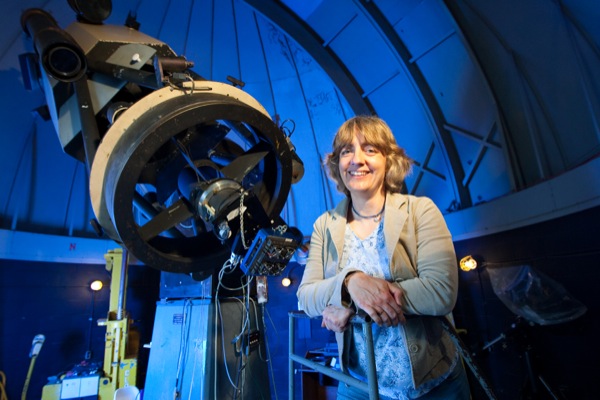 Oct. 14: Planet hunters
Kepler expert to bring update on quest to find Earth-like planets
5:40 p.m., Oct. 7, 2015--The quest to find Earth-like planets, using a NASA space telescope to find planets that could support life, is a mission that has been underway since 2009.
An expert in that Kepler Space Telescope Mission, science officer Fergal Mullally of the SETI Institute and the NASA Ames Research Center, will visit the University of Delaware's Clayton Hall Conference Center at 7:30 p.m. on Wednesday, Oct. 14, to bring an update on the program at the 2015 Harcourt C. "Ace" Vernon Memorial Lecture.
June 5: Blue Hen 5K
University of Delaware graduates planning to attend Alumni Weekend are encouraged to register for the annual Blue Hen 5K walk and run, which will be held Sunday morning, June 5.
June 6-9: Food and culture series
The 20th annual June Lecture Series at the Osher Lifelong Learning Institute at UD in Wilmington will be held June 6-9. Titled 'June a la Carte,' this year's program focuses on great political documents, feminism, world politics and a Newark cuisine sampler.
UD astronomer Judi Provencal, associate professor of physics and astronomy and the director of the Delaware Asteroseismic Research Center, answered some questions about the lecture and the mission:
Q: Do you have to be an astronomer or a physicist to understand what Dr. Mullally will be talking about? Will it be way over everyone else's heads?
A: (Laughs). No, no. This is open to the general public. Middle school and high school students can come. He'll have pictures from Kepler and he'll talk about the new mission.
Q: What is the Kepler mission about?
A: The original mission was to look at one region of the sky continuously and take lots and lots of pictures of 150,000 stars there. What they were looking for was a very small signal. If the star has planets around it and you're lucky enough that the planet gets between us and the star, you would see a little bit of dimming of the star. Kepler is looking for planets around other stars.
Q: Your work is focused on the Whole Earth Telescope and stars. What interests you about the Kepler mission?
A: Some of the stars we study are going to be looked at with Kepler as well. What they did find, while looking at these 150,000 stars, is that most stars are not at constant brightness themselves. They get brighter, they get dimmer. Some get bigger or a little smaller. It's lucky that our sun doesn't do that or we wouldn't be here…. I like the planets. But I really like the fact that they're finding that all of these stars are pulsating. We can monitor their brightness. And I watch them pulsate, identify the frequency that star is pulsating at and then build a model of what's going on inside the star.
Q: How hard is it to spot other planets?
A: It turned out to be pretty hard to find Earths. The effect you're looking at from an Earth-size planet is teeny, in the order of parts per million. That's very hard to spot.
Q: The Kepler mission has had some challenges?
A: It had a minor malfunction where one of the reactor wheels that it uses to keep itself pointed broke. It needs a wheel for each direction. Somebody really smart at NASA came up with the idea of using the solar wind as one direction. As Kepler orbits around the sun, the relative direction of the solar wind changes, so it can only point at a certain field for 70-80 days.
The Vernon Memorial Lecture is free and open to the public, but advance registration is requested. The lecture is sponsored by the University's Delaware Asteroseismic Research Center and the Mount Cuba Astronomical Observatory in Greenville, Delaware. It is named for the late Harcourt C. "Ace" Vernon (1907-78), who was one of the observatory's founders and the first chairman of its board of trustees.
Article by Beth Miller
Photo by Evan Krape