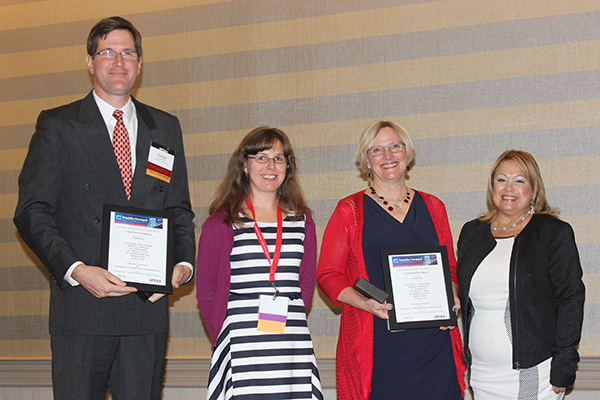 Exceptional engagement
UD certificate program with Christiana Care Health System wins UPCEA award
2:52 p.m., Nov. 2, 2015--The University of Delaware has won the University Professional and Continuing Education Association (UPCEA) Mid-Atlantic Engagement Award for its new Christiana Care Certificate in Healthcare Leadership.
This award recognizes the outstanding mutually beneficial exchange of knowledge and resources between UD's Division of Professional and Continuing Studies and Alfred Lerner College of Business and Economics and Christiana Care Health System (CCHS) in providing this customized executive education program.
National Medal of Science
President Barack Obama recently presented the National Medal of Science to University of Delaware alumnus Rakesh Jain.
Warren Award
Rosalind Johnson, assistant dean for student success in the NUCLEUS Program in UD's College of Arts and Sciences, was presented the John Warren Excellence in Leadership and Service Award during a May 26 ceremony.
The leadership certificate program has developed 47 CCHS mid-level leaders since 2012, and the next offering begins in January 2016.
"All of these leaders have applied what they learned to more effectively lead their part of Christiana Care," said Barbara Monegan of Christiana Care Health System. 
Monegan said that feedback from supervisors indicates participants have a more nuanced understanding of how to lead both processes and people in an organization and exhibit greater self-awareness of their critical role in translating CCHS strategy into reality across the health system. 
"These leaders are using what they learned in the certificate program to positively change how we deliver health care to our neighbors in Delaware," Monegan said.
Key UD members of the award-winning team include:
Jack Baroudi, associate dean for Graduate and MBA Programs in the Lerner College;
George Irvine, assistant director of Organizational Learning Solutions in the Division of Professional and Continuing Studies;
Wendy Smith, associate professor of management;
Bethany Hall-Long, professor in the School of Nursing; and
Barbara Roche, Organizational Learning Solutions instructor.
"It is a pleasure to work with the rising Christiana Care leaders to help them develop and apply their leadership skills to real-world issues facing Christiana Care," Baroudi said. 
"We designed the certificate to provide actionable, research-based business best practices to help these Christiana Care leaders understand how to respond strategically and positively to health care reform," he continued. "This in turn helps Christiana Care continue its positive impact on community health care in Delaware."
This award makes UD eligible for the national UPCEA award, which will be awarded in March 2016.