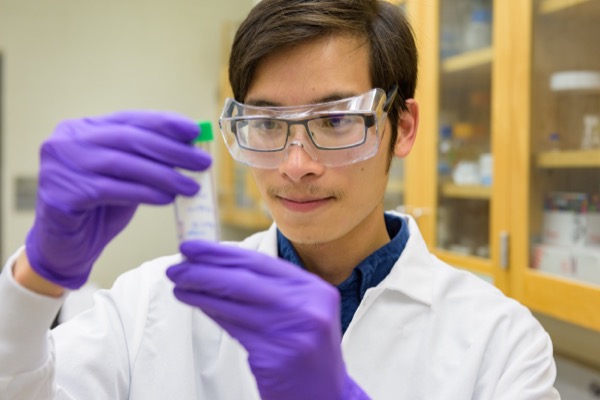 Materials science honors
Doctoral candidate's work focuses on materials for controlled drug delivery
11:29 a.m., May 11, 2016--Yingkai Liang, a Ph.D. candidate in the Department of Materials Science and Engineering at the University of Delaware, has won an Excellence in Graduate Polymer Research Award from the American Chemical Society (ACS). 
The 12th Excellence in Graduate Polymer Research Symposium took place at the ACS national meeting, held in San Diego from March 13-17.
National Medal of Science
President Barack Obama recently presented the National Medal of Science to University of Delaware alumnus Rakesh Jain.
Warren Award
Rosalind Johnson, assistant dean for student success in the NUCLEUS Program in UD's College of Arts and Sciences, was presented the John Warren Excellence in Leadership and Service Award during a May 26 ceremony.
The symposium recognizes outstanding graduate students in polymer science and engineering, fosters networking and exposure, and helps to develop the careers of future leaders in the field. This year's symposium featured the work of 31 students, with 22 oral presentations and nine posters.  
Liang delivered an oral presentation on his research, which focuses on developing polymeric hydrogels for controlled drug delivery applications.
Liang explains that hydrogels are solid jelly-like materials with porous network structures that can absorb drugs and therapeutic proteins, just like sponges. 
"Our goal is to use these hydrogel materials as delivery vehicles, to control the rate at which a drug is released and the location in the body where it is released," he says. "With the use of these polymer materials, we can envision less frequent injection of therapeutics, reduced off-target side effects and improved therapeutic efficacy in disease treatment."
After completing his doctoral degree, he plans to become a research scientist in the biotechnology or pharmaceutical industry.
"I am always excited about the prospect of applying scientific innovations in polymer science and engineering to commercially viable biomedical solutions," he says.
Article by Diane Kukich
Photo by Evan Krape