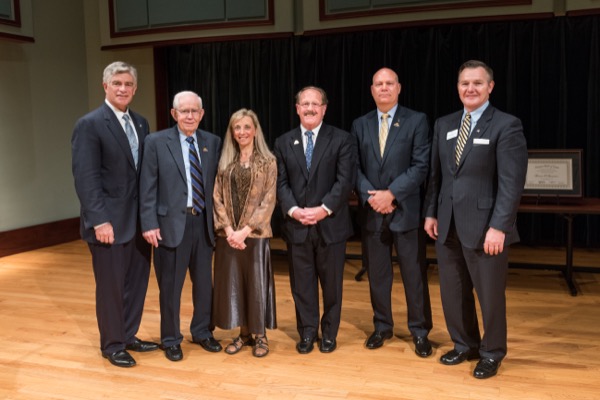 Wall of Fame
Four distinguished UD graduates to be inducted into Alumni Wall of Fame
9:28 a.m., May 3, 2016--The University of Delaware has a veritable sea of talented alumni that swells with each passing graduation, a group it aspires to honor in a meaningful way. Since its inception in 1984, UD's Alumni Wall of Fame ceremony has accomplished exactly that, recognizing distinguished Blue Hens all across the globe.
This year, four outstanding UD alumni will be recognized for their professional and public service at the Alumni Wall of Fame Induction Ceremony on Saturday, June 4, in the Roselle Center for the Arts. The ceremony, hosted by the University of Delaware Alumni Association (UDAA), will be held during the 8th annual Alumni Weekend.
National Medal of Science
President Barack Obama recently presented the National Medal of Science to University of Delaware alumnus Rakesh Jain.
Warren Award
Rosalind Johnson, assistant dean for student success in the NUCLEUS Program in UD's College of Arts and Sciences, was presented the John Warren Excellence in Leadership and Service Award during a May 26 ceremony.
"The Wall of Fame serves as a legacy for our exceptional alumni," says Nancy Targett, acting president of the University of Delaware. "It's an absolute honor to have the opportunity to add more names to it each and every year. The honorees we're celebrating have established indelible legacies in their communities, with their colleagues and at this University. We're very proud of their accomplishments and equally proud that they're carrying on the Blue Hen tradition of excellence." 
This year's inductees include Grace Thompson Leong, a leader and innovator in the public relations industry; Tara J. Manal, director of clinical services and residency training in UD's Department of Physical Therapy; Leo E. Strine Jr., the eighth chief justice of the Delaware Supreme Court; and Marna C. Whittington, whose broad experience in executive leadership includes the University of Pennsylvania, the state of Delaware and Allianz Global Investors Capital. 
"The UDAA has established a fine tradition of celebrating the many diverse accomplishments of our alumni," says Anne G. Barretta, Class of 1983 and president of the UDAA. "These Blue Hens have demonstrated outstanding professional success, philanthropic achievement and strong loyalty toward the University."
Since establishing the program, the University and UDAA have honored over 250 graduates, including Revolutionary War heroes and signers of the Declaration of Independence and the United States Constitution, as well as physicians, engineers and authors. Recent honorees include individuals from business, law, education, creative and performing arts, athletics, religion, politics, medicine and the military. 
Adds Barretta, "This event fosters an immense sense of pride for all Blue Hens." 
Register to attend the 2016 Alumni Wall of Fame ceremony and reception by visiting this website.
2016 Alumni Wall of Fame honorees
Grace Thompson Leong, a 1988 graduate, is CEO and partner of Hunter PR, a New York City-based marketing communications firm that began with three employees in 1989 and now operates across North America and in the United Kingdom. She has been recognized as a leader in the public relations industry and her firm has consistently been recognized as a "Best Place to Work," and in 2014 was named North America's Consumer PR Agency of the Year.
Tara J. Manal, a 1991 graduate who also receive a master's degree in 1993, is the director of clinical services and residency training and associate professor in the Department of Physical Therapy at the University of Delaware. UD's graduate physical therapy program has been ranked No. 1 in the nation in the 2017 edition of U.S. News and World Report's Best Graduate Schools. She has published 15 monographs and chapters, 22 peer and non-peer reviewed articles, and has presented at numerous national and international conferences and meetings.
Leo E. Strine Jr., a 1985 graduate, is the eighth chief justice of the Delaware Supreme Court. Before becoming the chief justice, Strine had served on the Delaware Court of Chancery as chancellor since June 22, 2011, and as vice chancellor since Nov. 9, 1998. Before becoming a judge, Strine was counsel and policy director to Gov. Thomas R. Carper, who received a master's degree from UD in 1975. Strine holds long-standing adjunct teaching positions at Harvard University and University of Pennsylvania.
Marna C. Whittington, a 1968 graduate, served as budget director and secretary of finance for the state of Delaware and then as executive vice president and chief financial officer of the University of Pennsylvania. As managing partner of Miller, Anderson and Sherrerd (MAS), Whittington directed the sale of MAS to Morgan Stanley Asset Management, where she successfully integrated the two firms and later became a managing director and chief operating officer. She also served as CEO of Allianz Global Investors Capital LLC from 2001 until her retirement in 2012. 
About the UD Alumni Association
The UDAA provides exceptional value and ongoing support to alumni worldwide by expanding benefits available to alumni, supporting regional and affinity club events, recognizing alumni and their accomplishments and more. The UDAA partners with the Office of Development and Alumni Relations to actively engage and support future and current alumni in a lifelong relationship with the University of Delaware.
About Alumni Weekend 2016
Taking place, the first weekend in June – Friday, June 3, to Sunday, June 5 – and hosted by the Office of Development and Alumni Relations, this year's Alumni Weekend will return with a lineup of many crowd favorites. This includes Friday night's Dela-bration bash that floods the entire North Green with music, food and classmates, and Sunday's Blue Hen 5K Walk/Run, starting with the Kids Fun Run.
Blue Hens can also pay tribute to outstanding alumni during this year's UD Alumni Wall of Fame ceremony, have brunch with their entire family – and YoUDee and Baby Blue – at the new Caesar Rodney Dining Hall, or catch up with classmates during one of the many class reunions.
Click here to register online for Alumni Weekend events.