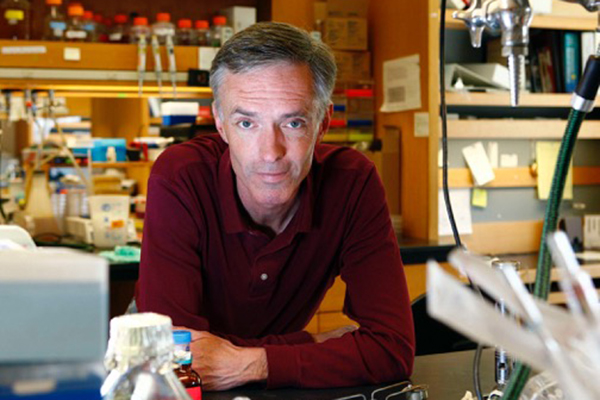 May 3: Jefferson Life Sciences Lecture
MIT's J.J. Collins to speak on 'Synthetic Biology: Life Redesigned'
10:05 a.m., March 21, 2016--It's no longer science fiction. The emerging field of synthetic biology is bringing together engineers, physicists and biologists to design biomedical circuits out of proteins, genes and other bits of DNA, and to use these circuits to rewire and reprogram organisms. 
"These reengineered organisms are going to change our lives in the coming years," says James J. Collins, the Termeer Professor of Bioengineering at the Massachusetts Institute of Technology. Among the benefits he foresees are cheaper drugs, rapid diagnostic tests and synthetic probiotics to treat infections and a range of complex diseases.
June 5: Blue Hen 5K
University of Delaware graduates planning to attend Alumni Weekend are encouraged to register for the annual Blue Hen 5K walk and run, which will be held Sunday morning, June 5.
June 6-9: Food and culture series
The 20th annual June Lecture Series at the Osher Lifelong Learning Institute at UD in Wilmington will be held June 6-9. Titled 'June a la Carte,' this year's program focuses on great political documents, feminism, world politics and a Newark cuisine sampler.
On Tuesday, May 3, Collins will highlight recent efforts to create synthetic gene networks and programmable cells when he presents the Edward G. Jefferson Life Sciences Lecture at the University of Delaware's Roselle Center for the Arts. Collins' presentation, "Synthetic Biology: Life Redesigned," will begin at 4 p.m. A reception will precede the lecture, starting at 3 p.m. at the same location. 
The event is free and open to the public. Register online here.
"Prof. Collins is known internationally for his pioneering advances in synthetic biology," says Charlie Riordan, deputy provost for research and scholarship at UD. "His research focuses on using network biology approaches to study antibiotic action, bacterial defense mechanisms and the emergence of resistance — work that holds promise in transforming the detection, treatment and prevention of disease."
Among his many awards and honors, Collins has received a Rhodes Scholarship, MacArthur Fellowship "genius" award, National Institutes of Health (NIH) Director's Pioneer Award, Sanofi-Institut Pasteur Award, as well as several teaching awards.
He is an elected member of the National Academy of Sciences, the National Academy of Engineering, the Institute of Medicine and the American Academy of Arts and Sciences, and a charter fellow of the National Academy of Inventors.
The Edward G. Jefferson Lecture is named in honor of the late chairman and chief executive officer of DuPont, UD trustee emeritus and UD benefactor. The lecture is endowed by a gift from the Unidel Foundation. 
Article by Tracey Bryant