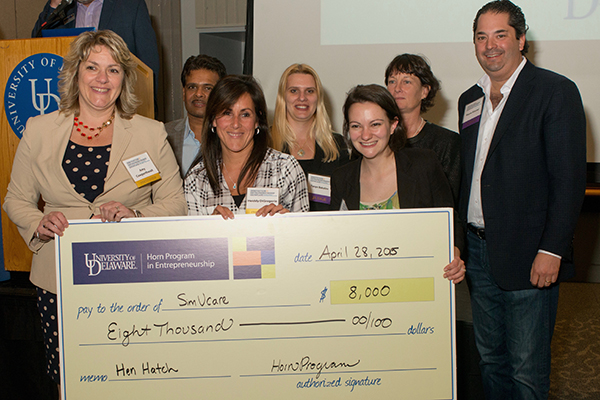 Hen Hatch semifinalists
Horn Program announces semifinalists in 2016 Hen Hatch Startup Competition
1:47 p.m., March 3, 2016--Twenty-one teams will advance to the semifinal round of the University of Delaware Horn Program in Entrepreneurship's 2016 Hen Hatch startup funding competition. 
Seventy teams submitted applications for Hen Hatch, one of the Mid-Atlantic's largest venture competitions, in which winners are awarded $100,000 in cash and in-kind services. 
National Medal of Science
President Barack Obama recently presented the National Medal of Science to University of Delaware alumnus Rakesh Jain.
Warren Award
Rosalind Johnson, assistant dean for student success in the NUCLEUS Program in UD's College of Arts and Sciences, was presented the John Warren Excellence in Leadership and Service Award during a May 26 ceremony.
In the next round, teams will pitch their business concepts at the Horn Program's Venture Development Center on Friday, March 11, for students and on Friday, March 18, for alumni, faculty and staff. 
Judges for the student semifinalists include Sean Darras, Ngozi Bell, Patrick Callahan, Liz Carter and Jim Mazarakis. 
Teams in the alumni, faculty, and staff track will face a panel of judges including Holly Flanagan, Charlotte Geiger, Brian Pryor, Rick Lynch and John Drastal. 
Student team profiles
Curing Cube: Dental equipment venture proposed by Farhad Baqi from the Alfred Lerner College of Business and Economics, and Seyar Baqi and Edward Bayley from the College of Arts and Sciences.
JADE Biotech: Medical diagnostic device designed by Elizabeth Soulas, Daniel Charytonowicz, John Lowman and Allison Lisberg, all from the College of Engineering. 
Joost Wafel Co.: Food manufacturing and sales business created by Joost Elling of the College of Agriculture and Natural Resources.
Justin: Attendance application designed by Tali Cohen and Yael Bloom, Lerner College.
Miraco Group: Health and fitness supplement created by Patrick Bingham and Michael Rance, Lerner College; Steven Ebeling, College of Health Sciences; and Shaqran Shareeq, College of Arts and Sciences.
Property Link: Online platform for property management created by Joel Amin, Lerner College.
Sleek Solar Shingles: Solar industry material developed by Abhishek Iyer, College of Engineering graduate student; James Hack, engineering doctoral student, and Akirt Sridharan, a graduate student in engineering and the Lerner College.
TrueVest: Investment application designed by Yousef Aly and Abdel Hossain of the Lerner College and the College of Arts and Sciences, and Matthew Stroney, Lerner College.
UniDine: Smartphone app designed by Daniel Neuburger, College of Engineering.
WeatherOptics: Meteorology consulting based on model and analysis created by Scott Pecoriello, Lerner College.
Alumni, faculty, and staff team profiles
CardFlipz: Online marketplace created by Steven Rutland, Lerner College alumnus.
Career Compass: Platform for career planning created by Elliot Pires, Lerner College alumnus.
Flip: Wallet designed by Chris Lin, College of Engineering alumnus.
Joist Buddy: Construction tool created by College of Arts and Sciences alumna Melanie Fischer and Lerner College alumnus Rick Monnig.
NERDiT NOW: Information technology service created by Jonathan Hoxter, Lerner College alumnus.
Snowflake LLC: Consultation services created by College of Arts and Sciences alumnus Tom Morley.
StadiumBee: Online platform for stadiums designed by Lerner College alumni Tyler Kupper and James Hendershot and College of Arts and Sciences alumnus Evan Bowen.
Strataca Systems LLC: Medical device created by John Erbey, College of Health Sciences alumnus.
TangoTime: Dating service created by Lerner College alumus Elliot Pires.
US Compass: Study abroad program designed by Chang Liu and Liming, Lerner College alumnae, and College of Agriculture and Natural Resources alum Yangpeng Zhou.
Vista Research Group Inc.: Research for addiction treatment created by College of Engineering alumna Joanna Conti.
Hen Hatch and Innovation Showcase
The final round of the Hen Hatch competition will be held during the Innovation Showcase on Monday, April 25, from 4-9 p.m. in the Roselle Center for the Arts. 
The competition will feature pitches by the top three teams from each track before an accomplished panel of judges. 
This year's final round panel of judges includes Terry Kelly, president and CEO of W.L. Gore & Associates; Delaware businessman Ben du Pont; Stephen Tang, president and CEO of the University City Science Center; and Ralph J. Cetrullo III, Stephano Slack LLC partner. 
Finalists will compete for the $100,000-plus total prize pool.
Admission to Hen Hatch Final and Innovation Showcase is $50 and $20 for students. Hors d'oeuvres and refreshments, including beer and wine, will be provided. 
Advance online registration is required. 
About the Horn Program in Entrepreneurship
The Horn Program ignites imaginations and empowers world changers through entrepreneurial education.
The program's offerings emphasize experiential learning, evidence-based entrepreneurship and active engagement with entrepreneurs, business leaders and members of the broader entrepreneurial ecosystem.
Participation in Horn Program courses and co-curricular activities empowers students by providing them with the knowledge, skills, connections and access to resources needed to successfully create, deliver and capture value from new ideas and thrive in a rapidly changing world.