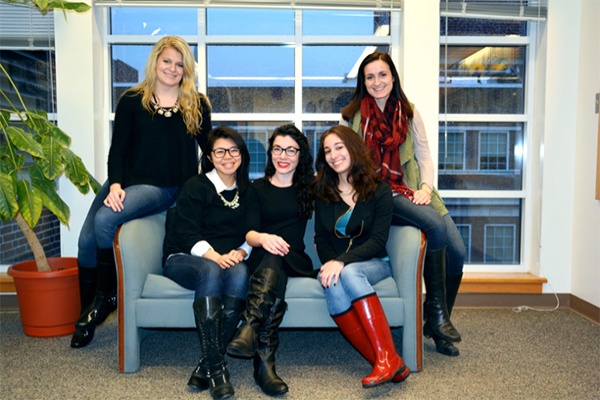 Fashion awards
Six students in fashion and apparel studies named winners in national competition
9:14 a.m., March 7, 2016--Six students from the University of Delaware Department of Fashion and Apparel Studies are winners of the 2016 YMA Fashion Scholarship Fund competition.
Each student will receive a $5,000 scholarship as well as an internship at a top retail company and an executive mentor who will assist them in networking at the top levels of the fashion industry.
National Medal of Science
President Barack Obama recently presented the National Medal of Science to University of Delaware alumnus Rakesh Jain.
Warren Award
Rosalind Johnson, assistant dean for student success in the NUCLEUS Program in UD's College of Arts and Sciences, was presented the John Warren Excellence in Leadership and Service Award during a May 26 ceremony.
Scholarships were awarded in two categories, apparel design and fashion merchandising. Students receiving scholarships in fashion merchandising were Lexis Kambour, Angelica Suarez, Alyssa Dugan, Megan Dawson-Elli and Jenna Levy. Gracie Leung won in the apparel design category. 
UD is one of 50 academic institutions selected to participate in the YMA Fashion Scholarship Fund competition. Other institutions participating include the Fashion Institute of Technology (FIT), the Parsons School of Design, Harvard University, the University of Virginia, the University of Pennsylvania and Cornell University.
UD has competed for the past six years and has been the recipient of $175,000 in scholarships during the six years.
"The fact that UD students do so well in this competition speaks to the quality of our program in both apparel design and fashion merchandising," said Hye-Shin Kim, department chair. 
"Meeting other award winners and speaking to leaders in the fashion industry were amazing experiences that I will take with me throughout the rest of my career. The event was inspirational, and I look forward to working hard and applying again next year," said Leung, an apparel design major.
The YMA Fashion Scholarship Fund (FSF) is a national non-profit association consisting of over 35 member companies of the fashion community, dedicated to promoting education of the fashion arts and business by granting scholarships to talented students and facilitating internships, mentorships and career programs. FSF's goal is to advance the fashion industry by encouraging gifted and enterprising young people to pursue careers in design, merchandising, retailing and business so the industry will continue to attract dedicated, capable and creative individuals.