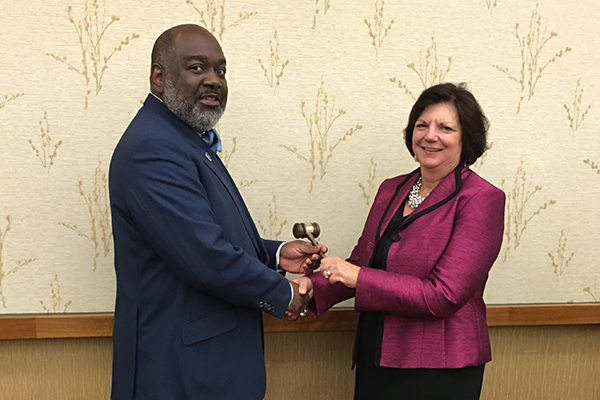 Extension honors
UD's Michelle Rodgers recognized with two national Extension leadership roles
9:16 a.m., Jan. 5, 2016--Michelle Rodgers, associate dean of the University of Delaware's College of Agriculture and Natural Resources and director of UD Cooperative Extension, has received two national Extension honors. 
Rodgers was named chair of the Extension Committee on Organization and Policy (ECOP) and elected as a trustee on the National 4-H Council. 
National Medal of Science
President Barack Obama recently presented the National Medal of Science to University of Delaware alumnus Rakesh Jain.
Warren Award
Rosalind Johnson, assistant dean for student success in the NUCLEUS Program in UD's College of Arts and Sciences, was presented the John Warren Excellence in Leadership and Service Award during a May 26 ceremony.
Rodgers said her position as ECOP chair is a major responsibility and that she looks forward to representing a diverse group of leaders with different opinions on Extension decisions made on a national scale. 
"I'm very cognizant of those who may think differently than I and I want to reflect on all the interests of Extension directors from across the country," said Rodgers. "It's a good challenge for any leader of a group to reflect the diversity of the thoughts and opinions of the group but also to bring some consensus and decision making to move forward on the items."
The executive committee has set forth many national goals for Cooperative Extension for the coming year, among them figuring out best practices for Extension programming in urban areas, focusing on innovation, and professional development. 
Officials also are looking at the core values for Cooperative Extension on a national scale. 
Rodgers said that providing a framework for a national Extension system is a challenge because each state is staffed and funded differently. 
"A topic I talked about recently in Washington, D.C., was pesticide safety education. In Delaware we have no one individual assigned to pesticide safety education, whereas Texas has eight or nine people," Rodgers said. "Extension is staffed from a statewide perspective but when we talk about doing things nationally, what does that look like and how can we speak as a national system when we're still based in a state, funded in part by state dollars, and have expectations from our state legislators? What are the common things around the national focus that we can agree on and work with?"
Rodgers said that an example of a successful national program came about last year when Extension developed common training and curriculum for agents across the country with regard to farm risk management education. 
"In our state, Laurie Wolinski and Dan Severson were the key leaders. They attended national trainings and then provided education to producers here in our state in combination with the United States Department of Agriculture (USDA) Farm Service Agency (FSA). All states used the same evaluation instrument and we were able to compile data and tell a wonderful story about the impact that Extension made nationally as a result of the effort across the states," Rodgers said.
"We have the capability to work locally but on a national scale and that really helps to show the impact of our national system and why people should continue to invest and fund and support Cooperative Extension," Rodgers added. "It's more than a state system; it's really bringing our collective pieces together on key issues at a national level."
National 4-H Council
As a trustee on the National 4-H Council, Rodgers will have a role in providing leadership for fund development, marketing and promotion for 4-H nationally. 
"We're getting ready to launch a national marketing campaign across the country about 4-H and, again, instead of each state having to do their own individual marketing, we're working with professional partners," Rodgers said. "We're getting ready to launch a national marketing campaign with some national spokespersons this spring. About 10 people are lined up, great people who are 4-H alums and who will speak to that."
Rodgers is an alumna and a product of the 4-H program and her parents met in 4-H. 
"I wouldn't be here if my parents hadn't met in 4-H, and 4-H was a major factor in my career choice," said Rodgers, who got her first job working with a family and consumer science educator who had been her mentor while in 4-H. 
"I have 35 years of work in Cooperative Extension as a direct result of having been a 4-Her and having been opened up to the career opportunities through 4-H. I also think it had a lot to do with my success in my college years in terms of my abilities to organize, make presentations and to work with others. I think it had a major impact on my capabilities to be a good scholar because I had skill sets that I had learned in 4-H."
Rodgers said she thinks 4-H is one of the best youth-serving organizations in the country, with great adult mentorship for young people and important life skill development, and singled out all that Delaware 4-H has to offer.  
"I'm very proud that Delaware has a wonderful menu of ways to be involved in 4-H. We have in-school, after-school, community clubs, we have camps, we have self determined projects that you can do -- there's many ways that you can be a 4-Her in this state depending on what works and what your interests are," she said. 
As to the future, Rodgers said that, much like institutions of higher education are reaching out to first generation college students, she would like to try and reach more first generation 4-Hers. 
"I'm a product of the program, but what about the kids who haven't had the opportunity to be a product of the program? How do we reach out to the first generation of 4-Hers who may or may not have had exposure to 4-H? I think there's a great opportunity for us to expand our program by focusing on the diversity of young people who are first generation 4-Hers. And I think we do some of this, but I also think we could do more," said Rodgers. 
Article by Adam Thomas