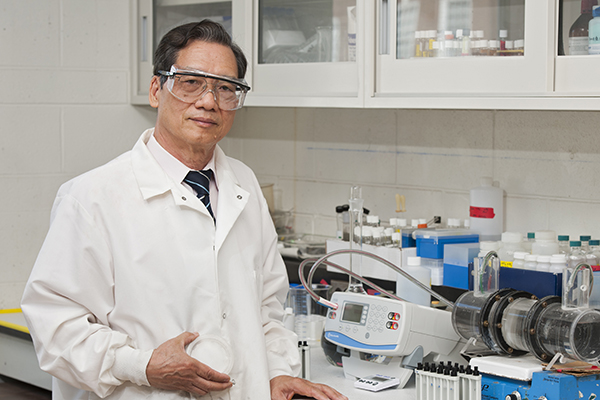 Engineering honors
Special journal issue honors contributions of environmental engineer
9:50 a.m., Jan. 13, 2016--Chin-Pao Huang, Donald C. Philips Professor of Civil and Environmental Engineering at the University of Delaware, was recently honored with a special issue of the journal Separation and Purification Technology dedicated to his area of specialty.
Focused on environmental nanotechnology and sustainability in water treatment, the issue includes 23 papers from an international slate of authors, many of whom have collaborated with Huang or been mentored by him during his 45-year career.
National Medal of Science
President Barack Obama recently presented the National Medal of Science to University of Delaware alumnus Rakesh Jain.
Warren Award
Rosalind Johnson, assistant dean for student success in the NUCLEUS Program in UD's College of Arts and Sciences, was presented the John Warren Excellence in Leadership and Service Award during a May 26 ceremony.
"His research work has had a profound effect in the field of environmental science and engineering," says Virender Sharma, director of the Program for Water Sustainability and Public Health Research in the School of Public Health at Texas A&M University and co-author of the foreword to the special issue.
"His continuous appetite to be innovative in research has led him to develop new areas of research and has guided numerous researchers all over the world to pursue those areas."
Huang received his doctorate from Harvard University, where he was mentored by the late Prof. Werner Stumm, who is considered the father of the multidisciplinary field of aquatic chemistry. He joined the University of Delaware faculty in 1974 and was named Donald C. Philips Professor of Civil and Environmental Engineering in 2002. 
Today, Huang is known worldwide for his work in environmental physical chemistry. He is credited with conducting pioneering research not only on the fate, transport and behavior of pollutants in aquatic environments, but also on treatment and remediation methods.
His work has addressed a broad spectrum of treatment approaches, including separation technologies, chemical and catalytic approaches, and physical methods for environmental protection. His contributions have gone beyond academic research to include providing technical assistance with the implementation of wastewater treatment systems and the production of training materials for system operators. 
In recent years, Huang has sought to widen the landscape of environmental-related disciplines by devoting his attention to nanomaterials and their potential role in pollution remediation.
Over the years, his work been supported by federal and state agencies, professional organizations, foundations and industry, and his findings have been documented in five books, 31 book chapters, and more than 200 refereed journal papers, as well as in hundreds of technical reports and invited and conference presentations.
Huang's scientific reach stretches throughout the global environmental engineering and science community. At UD, he has hosted dozens of collaborators and international visitors from various countries including Brazil, China, Egypt, Korea, Spain and Taiwan. He has also taught many short courses and organized conferences throughout the world in countries including China, Hong Kong, Korea, Germany, Switzerland and Taiwan.
Photo by Evan Krape