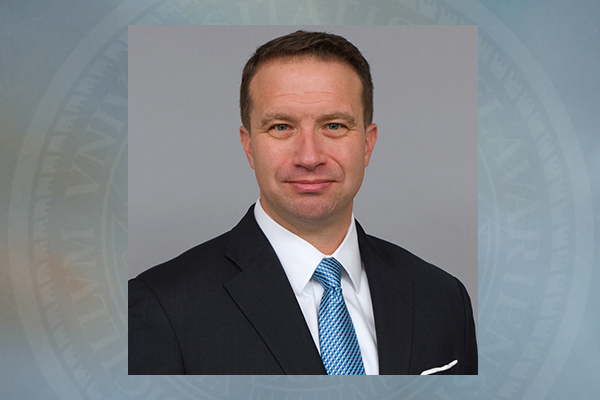 Feb. 10: Cybersecurity Lecture
Lecture looks at 'Navigating the Digital World in an Evolving Cyber-threat Landscape'
11:49 a.m., Jan. 21, 2016--Cybersecurity expert Edward J. McAndrew will deliver the first in a series of lectures hosted by the University of Delaware Cybersecurity Initiative and the Institute for Public Administration on Wednesday, Feb. 10. 
The lecture, "Navigating the Digital World in an Evolving Cyber-threat Landscape," will take place in Mitchell Hall from 2:30-3:30 p.m., with a reception to follow in the lobby of DuPont Hall.
June 5: Blue Hen 5K
University of Delaware graduates planning to attend Alumni Weekend are encouraged to register for the annual Blue Hen 5K walk and run, which will be held Sunday morning, June 5.
June 6-9: Food and culture series
The 20th annual June Lecture Series at the Osher Lifelong Learning Institute at UD in Wilmington will be held June 6-9. Titled 'June a la Carte,' this year's program focuses on great political documents, feminism, world politics and a Newark cuisine sampler.
Using examples from cases he handled at the U.S. Department of Justice, McAndrew will provide insights into the evolving cyber-threat landscape and its implications for businesses and individuals. He will illustrate the anatomy of a typical hack, while discussing key cybersecurity and cyber-compromise points from the perspectives of the hackers and the law enforcement officers who pursue them.
Drawing on his experience in both the public and private sectors, he will address the challenge of business planning and operations in this new environment of the Internet and digital technology, and he will offer strategies for interacting with various stakeholders on cyber incidents, including governments, business partners, consumers, employees, shareholders, and the media. 
Finally, he will touch on some key points on personal privacy and digital security gleaned from a decade on the dark side of the digital world.
The lecture is free and open to the public. Those planning to attend the reception should RSVP to Wendy Jordan at cybersecurity@win.udel.edu.
The series will include two additional lectures this spring:
March 16 – "Cybersecurity: Recent Developments and Trends in the Law," with speaker Rajesh De, partner, Mayer Brown LLP.
April 6 – "Statistical Techniques and Applications for Text, Imagery, and Video Processing," with speaker James J. Nolan, vice president for analytic technologies, Decisive Analytics Corp.
About the speaker
Edward J. McAndrew is a partner in the privacy and data security, litigation and investigations groups at Ballard Spahr LLP, in Washington, D.C., Wilmington and Philadelphia.
Recently named a "Cybersecurity and Data Privacy Trailblazer" by the National Law Journal, McAndrew helps organizations and individuals navigate life in a digital world. He advises clients on cybersecurity, digital privacy, cyber-incident response, national security issues, digital speech and conduct, corporate governance, regulatory compliance and enforcement. He also works extensively on technology-facilitated investigations, litigation and trials in various areas.
Prior to January 2016, McAndrew served for nearly a decade as a federal cybercrime prosecutor in the U.S. Attorney's offices for the District of Delaware and the Eastern District of Virginia. As a cybercrime coordinator and national security cyber specialist, McAndrew worked on some of the U.S. Department of Justice's most significant cyber cases, including the first U.S. prosecution of a foreign hacker for theft of trade secrets and the first U.S. prosecution of a Chinese national for cybercrimes committed entirely from China.
He also was part of a team of Delaware-based prosecutors who secured the first U.S. convictions for cyberstalking resulting in death, which stemmed from the February 2013 shooting of four people in the New Castle County Courthouse.
Over the past decade, McAndrew's work has spanned every major area of technology-facilitated crime, including network intrusions and cyber attacks; digital espionage; identity and intellectual property theft; financial, government contracting, and tax fraud; money laundering; export control violations; cyberstalking; obstruction of justice; online child exploitation; and terrorism. He has handled a multitude of high-profile, complex and sensitive investigations, trials and appeals, many involving cutting-edge legal and technological issues.
Prior to joining the U.S. Department of Justice, McAndrew was a litigation partner and deputy practice group leader in the Washington, D.C., office of Reed Smith LLP. In addition to managing a national practice group, he focused on complex civil and regulatory litigation and white-collar investigations in various industries, including advertising, broadcasting, chemical, education, energy, gaming, financial services, health care, insurance, media, retail, telecommunications, and transportation.
Article by Diane Kukich