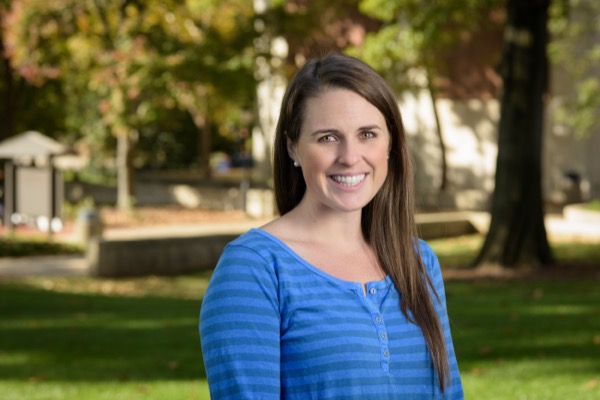 Scholarly nursing
Marissa Adams named new Buxbaum Scholar in School of Nursing
3:54 p.m., Jan. 20, 2016--Marissa Adams is the newest Jeanne K. Buxbaum Scholar in the University of Delaware's School of Nursing. The graduate student is studying in the family nurse practitioner (FNP) program.
With a focus on older adults, these scholars serve as research assistants for Veronica Rempusheski, Jeanne K. Buxbaum Chair of Nursing Science. Research areas include elder care within a family context, dementia, family caregiving and ethnicity. 
National Medal of Science
President Barack Obama recently presented the National Medal of Science to University of Delaware alumnus Rakesh Jain.
Warren Award
Rosalind Johnson, assistant dean for student success in the NUCLEUS Program in UD's College of Arts and Sciences, was presented the John Warren Excellence in Leadership and Service Award during a May 26 ceremony.
Adams said she is appreciative of the assistantship, which provides an opportunity to develop her research and writing capabilities while working with a population about which she is passionate. 
"Most individuals of the gerontologic population experience some form of sensory deprivation, which is why I hope to pursue a career in the family practice setting," said Adams, an experienced surgical intensive care nurse who earned a baccalaureate degree in nursing in 2010 from the University of Texas at Austin. "I want to comfort those in this population as well as those that suffer from sensory deprivation, easing their fears and anxiety concerning seeking medical attention."
In April, she will present proposed research on the implementation of a sleep protocol to decrease delirium in surgical intensive care patients at the 2016 Scientific Sessions of the Eastern Nursing Research Society.
"Marissa displays superb knowledge and skills of a developing researcher — attention to detail, thoroughness, intellectual curiosity collaboration and organization," said Rempusheski.  
Adams joins continuing Buxbaum Scholars Matthew Koterwas, Rachael Cooper, Julia Pohlman, Kearstin Raby, Angela Gonzalez, Julie Harlam, Audrey McGowan, Paulina Renda and Natalie Roddy. 
With a year and a half already completed, Adams has excelled in the didactic and clinical portions of the FNP program. She anticipates completing all degree requirements by December. 
Upon completion, Adams becomes eligible for the family nurse practitioner certification exam and to apply for an advanced practice registered nurse license. 
Photo by Evan Krape