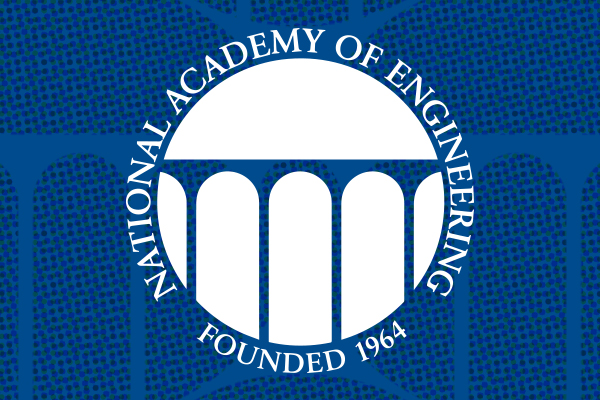 NAE honors
Three UD alumni elected to National Academy of Engineering
1:10 p.m., Feb. 23, 2016--Three University of Delaware engineering alumni are among 80 new U.S. members of the National Academy of Engineering (NAE).
Morton Collins, a 1958 graduate, was cited for accomplishments as a builder and manager of technology-based companies and as an adviser to government and universities; Teh Ho, a 1977 graduate, for contributions to catalytic removal of sulfur and nitrogen compounds from hydrocarbon fuels; and David Welch, a 1981 graduate, for contributions to high-power semiconductor lasers and photonic integrated circuits.
National Medal of Science
President Barack Obama recently presented the National Medal of Science to University of Delaware alumnus Rakesh Jain.
Warren Award
Rosalind Johnson, assistant dean for student success in the NUCLEUS Program in UD's College of Arts and Sciences, was presented the John Warren Excellence in Leadership and Service Award during a May 26 ceremony.
They will be formally inducted during a ceremony at the NAE's annual meeting in Washington, D.C., on Oct. 9.
"Election to NAE is among the highest professional distinctions accorded to an engineer," says Babatunde Ogunnaike, dean of the College of Engineering. "This honor places Mort, Teh and David among the world's most accomplished engineers and recognizes their lifelong contributions to the study and practice of engineering. Their dedication to discovery makes the world a better place and brings honor to the profession of engineering."
Mort Collins
After completing his bachelor's degree in chemical engineering at UD in 1958, Collins earned master's and doctoral degrees at Princeton University. He is currently managing partner at Battelle Ventures LLC, in Ewing, New Jersey. Collins has demonstrated major successes in the fields of life sciences, electronic materials, communications and software.
In 1968, Collins founded Data Science Ventures (DSV), a pioneering venture-capital firm, and for 30 years he was a managing partner in four DSV partnerships that specialized in early-stage financing of high-technology companies. In 1997, he became a special limited partner of Cardinal Partners, the successor to the DSV series of partnerships.
Collins chaired President Ronald Reagan's Task Force on Innovation and Entrepreneurship, and he served as technology policy adviser to President George H.W. Bush. He has served on the New Jersey Governor's Commission on Science and Technology and the New Jersey Governor's Superconductivity Roundtable, and he is a member of the Research Roundtable of the National Academy of Sciences.
Collins has generously given both his time and money to his alma mater over the years. For nearly 30 years, he has been a member of the Department of Chemical and Biomolecular Engineering Advisory Council, serving as chair from 1984-2010. He also serves as a member of the President's Leadership Council. 
Collins supports first-year graduate student fellowships in the College of Engineering and endeavors like the Class of 1958 Scholarship and the renovations to Colburn Lab. In recognition of his many achievements, Collins was awarded the 1989 University of Delaware Medal of Distinction.
Teh Ho
Teh Ho earned his doctorate in chemical engineering at UD in 1977, with Morton Denn as his adviser. He is a retired senior research associate at ExxonMobil Research and Engineering Company in Bridgewater, New Jersey, and previously worked at Halcon Research and Development Corporation. Ho was also a platoon leader with the Taiwan Marine Corps. 
He is a co-inventor on more than 40 patents and the recipient of the R. H. Wilhelm Award in Chemical Reaction Engineering from the American Institute of Chemical Engineers (AIChE).
Ho's wife, Wei Wei H. Ho, is also a UD graduate, receiving a degree in 1976. The couple supports a variety of initiatives on campus including the renovation of Colburn Laboratory, the construction of Harker Laboratory, the departments of Chemical Engineering and Biomolecular Engineering and Plant and Soil Sciences, and the Art Metzner Professorship.
David Welch
David Welch earned a bachelor's degree in electrical engineering at UD in 1981 and then went on to complete his doctorate at Cornell University. His career spans almost 30 years of entrepreneurial leadership in fiber optic communications. Welch went to California after graduate school to join SDL, a multinational software and professional services company, as a research scientist in 1985.
After rising to the role of chief technical officer and vice president of corporate development at SDL, he successfully identified, negotiated, and completed several corporate acquisitions, culminating in the merger of SDL with JDS Uniphase. In 2001, Welch co-founded Infinera, a manufacturer of optical telecommunications systems based in Sunnyvale, California. He currently serves as its president and sits on the board of directors. 
Welch holds over 130 patents in optical transmission technologies, and he has authored more than 300 technical publications in the same field. A fellow of both the Optical Society of America and the Institute of Electrical and Electronics Engineers, he has been awarded the Adolph Lomb Medal, the Joseph Fraunhofer Award, and the John Tyndall Award in recognition of his technical contributions to the optical industry. 
Welch has been a strong supporter of the College of Engineering and the Department of Electrical and Computer Engineering, particularly in terms of providing faculty resources. He is currently a member of the College of Engineering Advisory Council.
"These newest NAE elections reflect on the training UD engineering gives its students," Ogunnaike says. "We look forward to seeing many more of our alumni receive this honor in the future."
About the NAE 
Election to the National Academy of Engineering membership honors those who have made outstanding contributions to "engineering research, practice, or education, including, where appropriate, significant contributions to the engineering literature" and to "the pioneering of new and developing fields of technology, making major advancements in traditional fields of engineering, or developing/implementing innovative approaches to engineering education."
The new elections bring the total U.S. membership in NAE to 2,275 and the number of foreign members to 232.