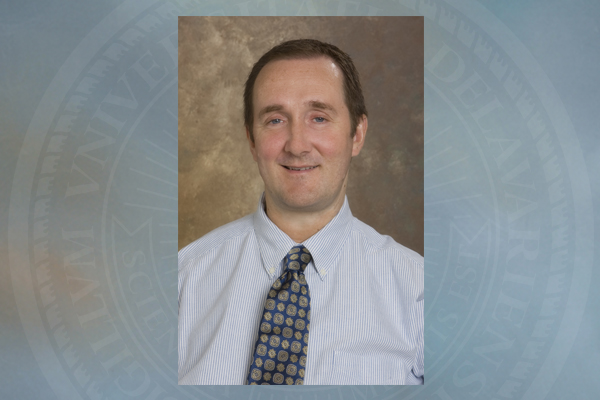 Engineering honors
Kenneth Barner named IEEE Fellow for work in nonlinear signal processing
1:22 p.m., Dec. 7, 2015--Kenneth Barner, professor and chair of the Department of Electrical and Computer Engineering at the University of Delaware, has been named an IEEE Fellow for his contributions in the area of nonlinear signal processing.
IEEE Fellow is the highest grade of membership and is recognized by the technical community as a prestigious honor and an important career achievement. The honor is conferred on only one-tenth of one percent of the total voting membership each year.
National Medal of Science
President Barack Obama recently presented the National Medal of Science to University of Delaware alumnus Rakesh Jain.
Warren Award
Rosalind Johnson, assistant dean for student success in the NUCLEUS Program in UD's College of Arts and Sciences, was presented the John Warren Excellence in Leadership and Service Award during a May 26 ceremony.
The processing of signals is fundamental to applications in a broad array of disciplines, from biology and medicine to communications and imaging. While traditional signal processing methods employ linear techniques, real-world systems and signals often exhibit nonlinearities, and linear methods break down in the presence of harsh environments. 
Applications for Barner's work in nonlinear signal processing include imaging, bio signaling, and the processing of large unstructured datasets. His broad research interests include signal and image processing, robust signal processing, nonlinear systems, sensor networks and consensus systems, compressive sensing, human-computer interaction, haptic and tactile methods, and universal access.
Barner's research is reported in over 275 technical publications and supported by over $9 million in funding. He has graduated 17 doctoral and 22 master's students at UD.
In nominating him for the recognition, a colleague wrote, "Dr. Barner has developed a large body of novel, theoretically derived and rigorously analyzed methods that address contemporary challenges and have impact within the community. With his demonstrated accomplishments, he ranks near the top of those in his discipline."
Barner, who earned his doctorate at the University of Delaware, joined the UD faculty in 1998. He became department chair in 2009. 
He is a member of the Nonlinear Signal and Image Processing Board; co-editor of the book Nonlinear Signal and Image Processing: Theory, Methods, and Applications; and founding editor of the journal Advances in Human-Computer Interaction.
In the past, Barner has served as associate editor of IEEE Transactions on Signal Processing, IEEE Transaction on Neural Systems and Rehabilitation Engineering, and IEEE Signal Processing Magazine.
About IEEE
The IEEE is the world's leading professional association for advancing technology for humanity. Through its 400,000 members in 160 countries, the IEEE is a leading authority on a wide variety of areas ranging from aerospace systems, computers and telecommunications to biomedical engineering, electric power and consumer electronics. 
Dedicated to the advancement of technology, the IEEE publishes 30 percent of the world's literature in the electrical and electronics engineering and computer science fields, and has developed more than 900 active industry standards. The association also sponsors or co-sponsors nearly 400 international technical conferences each year.
Article by Diane Kukich
Photo by Ambre Alexander Payne