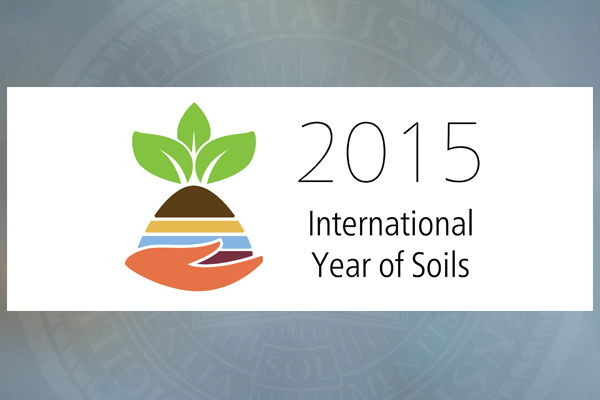 Dec. 7: Celebrating soil
DENIN event to boost appreciation for soil, an overlooked resource
10:51 a.m., Dec. 2, 2015--The Delaware Environmental Institute (DENIN) will host an event in celebration of the International Year of Soils from noon to 4 p.m. on Monday, Dec. 7, in the Trabant University Center.
The University of Delaware community is invited to stop by DENIN's booth near the food court to play soil-related trivia, enter the "Pay Dirt" raffle, pot a plant to take home, and sample the special "DENIN Dirt" ice cream flavor concocted by the UDairy Creamery.
June 5: Blue Hen 5K
University of Delaware graduates planning to attend Alumni Weekend are encouraged to register for the annual Blue Hen 5K walk and run, which will be held Sunday morning, June 5.
June 6-9: Food and culture series
The 20th annual June Lecture Series at the Osher Lifelong Learning Institute at UD in Wilmington will be held June 6-9. Titled 'June a la Carte,' this year's program focuses on great political documents, feminism, world politics and a Newark cuisine sampler.
"It's the end of the semester and we wanted to have some fun," said DENIN communications manager Beth Chajes. "We wanted to let folks release some stress by connecting with that part of themselves that just wants to play in the dirt. But, at the same time, a little education about soil and everything it does for us couldn't hurt."
The United Nations declared 2015 the International Year of Soils to bring awareness to a precious but underappreciated natural resource. In addition, the Food and Agriculture Organization (FAO) of the United Nations will observe World Soil Day on Dec. 5.
DENIN Director Donald L. Sparks is a world-renowned soil scientist who currently chairs the National Research Council's U.S. National Committee for Soil Science and is a past president of the Soil Science Society of America and the International Union of Soil Scientists. 
Sparks and colleagues from the U.S. National Committee for Soil Science published a review article in the journal Science earlier this year calling attention to the essential role of soil in human well-being and security and to the threats currently facing soil resources from erosion to urbanization.
"We couldn't let the International Year of Soils go by without some kind of celebration to mark the occasion," said Sparks, the Unidel S. Hallock du Pont Chair in Soil and Environmental Chemistry at UD. "But we also wanted to call attention to the fact that we have an outstanding cadre of soil scientists here at the University of Delaware who are working hard to understand this complex, living resource."
Here are some basic soil facts from the FAO:
Soil is the basis for food, feed, fuel and fiber production.
Soil is the reservoir for at least of quarter of global biodiversity.
Soil organisms such as bacteria and fungi are the world's decomposers and recyclers and are a significant source of antibiotic medicines.
Soil plays a key role in the supply of clean water and resilience to floods and droughts.
Soil provides the largest storehouse for terrestrial carbon and may therefore help mitigate climate change if this capacity is maintained and enhanced.