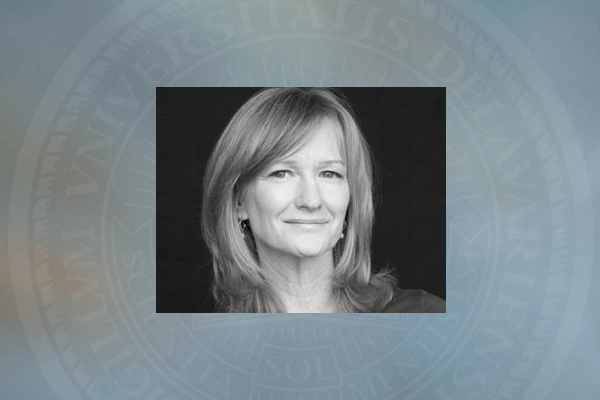 Aug. 19: Parkinson's advances
Michael J. Fox Foundation co-founder Brooks to speak at Parkinson's symposium
2:41 p.m., Aug. 10, 2015--Deborah W. Brooks, co-founder and executive vice chairman of the Michael J. Fox Foundation for Parkinson's Research, says there's more promise in the medical pipeline today for people with Parkinson's disease than in the past. 
That progress is driven by people who participate in clinical trials and other studies.
June 5: Blue Hen 5K
University of Delaware graduates planning to attend Alumni Weekend are encouraged to register for the annual Blue Hen 5K walk and run, which will be held Sunday morning, June 5.
June 6-9: Food and culture series
The 20th annual June Lecture Series at the Osher Lifelong Learning Institute at UD in Wilmington will be held June 6-9. Titled 'June a la Carte,' this year's program focuses on great political documents, feminism, world politics and a Newark cuisine sampler.
Brooks plans to speak about the roles patients and families can play in speeding treatment advances during the Parkinson's disease symposium, to be held from 5:30-7 p.m., Wednesday, Aug. 19, at the Health Sciences Complex on the University of Delaware's Science, Technology and Advanced Research (STAR) Campus.
"Much of what we see moving into the clinical stage of testing are really novel approaches. These are things that go beyond the current arsenal of dopamine-based treatments," said Brooks, who lives in Delaware and served as president and chief executive officer of the Fox Foundation from October 2000 to February 2007. "The pipeline for drug development is as good as it's been for decades." 
Brooks currently oversees fundraising, communications and digital strategy teams for the Fox Foundation, the world's largest private funder of Parkinson's disease research. Since 2000, the foundation has funded more than $149 million in Parkinson's research, either directly or through partnerships.
Brooks said she plans to talk about two web-based tools that are available for patients and their families. The first is the Fox Trial Finder, which allows people willing to participate in a clinical trial to submit a profile and learn about local opportunities that are available in the surrounding areas. The other is Fox Insight, an online research study recently launched with the goal of becoming the world's largest collection of data about life for people with Parkinson's disease. 
It's a two-way street when it comes to increasing awareness of clinical trials for people with Parkinson's. Around the world, between 40 and 70 percent of trials face delays because of a lack of volunteers, according to the Fox Foundation. Increasing the flow of participants is likely to accelerate the drug development process. 
"There are good ideas out there that could come to fruition for patients, but the process can be frustratingly slow. It acts as a disincentive for drug development," Brooks said. "We don't have an easy way to measure the disease process. It's kind of hard to design a trial that's really informative, particularly one that's informative over a short period of time. The longer you need to second-guess the outcome, the more expensive that becomes or the more people you need."
About 2,000 people in Delaware have been diagnosed with Parkinson's disease. The goal of the event at the STAR Campus is to let people with the disease and their loved ones know about specialized local resources that are available. 
In addition to the Fox Foundation resources, telemedicine services are available from the UD Nurse Managed Health Center Parkinson's Disease Clinic. Education and support groups for people with Parkinson's and their caregivers also can be found across the state.
Efforts like the Pancakes for Parkinson's event involving several UD faculty members also help raise awareness and needed funding. The event will be held 8 a.m. to noon, Sept. 19, at Sanford School in Hockessin.
"Research gives people hope," said Ingrid Pretzer-Aboff, research director of the UD Nurse Managed Health Center and director of The Parkinson's Clinic. "People living with this progressive disease and their families need to hear what the scientific community is doing as well as how they can participate in finding better treatments and ultimately, a cure." 
The symposium will begin at 5:30 p.m. with a reception in the atrium, and Brooks will speak at about 5:50. Self-guided tours of the Health Sciences Complex will begin at 7. Space is limited for this free event, and those who plan to attend are encouraged to register at this website. 
Article by Kelly Bothum