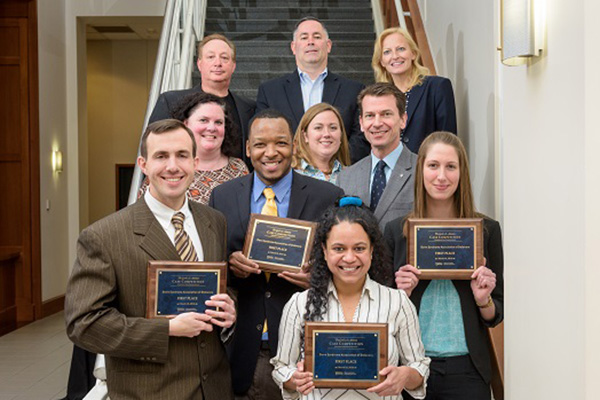 Case competition winners
Lerner College announces Carol A. Ammon Case Competition winners
8:57 a.m., April 1, 2016--Each year, graduate students in the Alfred Lerner College of Business and Economics at the University of Delaware are enlisted to help a local organization solve a problem and/or improve organizational effectiveness. Relying on publicly available information and input from the partnering organization, the grad students bring their best ideas to the Carol A. Ammon Case Competition.  
This year, the case competition focused on the statewide non-profit organization, Down Syndrome Association of Delaware (DSA-DE). According to Andrea Everard, Lerner management information systems professor, who wrote the 2016 case, the students were charged with providing recommendations to DSA-DE regarding:
National Medal of Science
President Barack Obama recently presented the National Medal of Science to University of Delaware alumnus Rakesh Jain.
Warren Award
Rosalind Johnson, assistant dean for student success in the NUCLEUS Program in UD's College of Arts and Sciences, was presented the John Warren Excellence in Leadership and Service Award during a May 26 ceremony.
Board composition and development; 
Strategies to make the association be a better resource for educators, families and the community; and
Improving fundraising efforts.
Weeks of planning culminated in a day-long competition that pitted 54 graduate students on 14 teams against each other. The students, who represent nearly all Lerner graduate degree programs, faced a panel of 15 alumni judges in morning competition and early afternoon rounds. These judges, all Lerner MBA alumni, narrowed the field from 14 teams to three finalist teams. 
The alumni judges who returned to Lerner to pick the finalists were Michael Alexitch, Yaw Boakye-Hwedie, Shitong Cao, Alex Chaplin, Tom Esposito, Chip Fody, Chris Giacomucci, Janeen Gryan Hill, Howard Keener, Katie Keeports, Dhaval Mavani, Rasheed, Anthony Ripanti, Carolyn Theim and Matt Wilhelm.
The three remaining teams made their presentations to a second panel of judges, all of whom are employed by DSA-DE. Final judges were DSA-DE executive director Kristin Pidgeon and DSA-DE board members Sheila Walsh, president; Dave Gazzillo, vice president; and Jim Kelly, treasurer.
Pitching in as moderators were members of the newly formed MBA Student Association including Olga Arshinova, Gordon Lippincott, Renae Myrie and NaTeka Shelton.
The top three teams, which competed for $5,000 in prize money, were:
1. Team "Down But Not Out" – Alex Brooks, Shyamala Athaide, Dan McCaffrey and Sarah Meadows earned first place honors and $2,500.
2. "Mix'N'Match" – Ben Marinelli, David Tinsley, Poorvi Patel and Mikhail Saldanha walked away with second place and $1,500.
3. The "Elite Consultants" – Harshavardhan Rao, Neha Samant, Parth Bhatt and Ashar Khan placed third with winnings of $1,000.
First place team member Sarah Meadows attributed a big part of her team's success to the diversity of her team members. "Each person on the team comes from a different background and has different strengths, which is important when you're working on a business problem because you have a greater and more diverse knowledge pool to work with," she said, adding that "everyone provided really unique perspectives that allowed us to really refine our strategy."
Teammate Daniel McCaffery noted that the "Down but Not Out" team was very disciplined in getting started early on their project and staying on track. He explained, "I think that this attitude led us each to go the extra mile on a number of occasions, because it became clear to each of us that all the others were serious about giving a good performance in this competition."
Shyamala Athaide shared that she thought "the entire process was a learning experience for us all because it taught us how to convert ideas, even some that seemed far-fetched, into action items."
The learning-by-doing experience is intentional, says Amy Becker, academic program coordinator for the Lerner College's Grad and MBA Programs. Becker, who runs the case competition each year with faculty adviser Everard, explained that the Carol A. Ammon Case Competition "provides our Lerner graduate students with an opportunity to use the knowledge and skills gained in our classrooms in a real-life setting."
The Carol A. Ammon competition, now in its 16th year, is made possible by the generous support of Endo Pharmaceuticals and is named for the company's founder, Carol A. Ammon.
Photo by Evan Krape