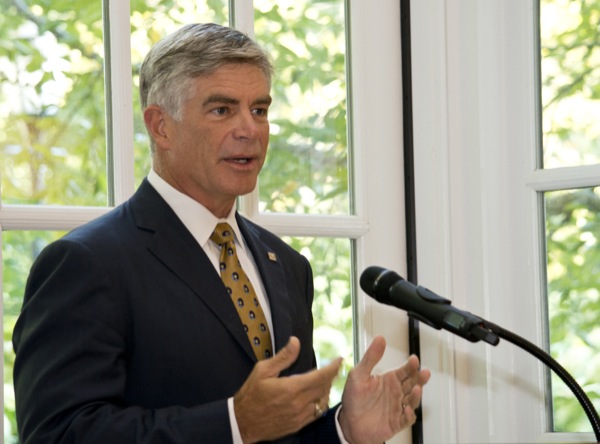 Sept. 29: Thought Leader Speaker Series
UD President Harker to speak on higher education's future
4:15 p.m., Sept. 17, 2014--University of Delaware President Patrick Harker will lead off the Thought Leader Speaker Series sponsored by UD's "Delaware Will Shine" strategic planning initiative on Monday, Sept. 29, from 4-5 p.m. in the Gore Recital Hall of the Roselle Center for the Arts. 
In "Making Sense of Higher Education's Future," Harker will talk about the challenges facing UD and all of higher education — from rising cost to basic questions about whether we're adequately preparing students for the future — and share his thoughts on how universities must rethink their missions and methods to not only survive, but to thrive.
June 5: Blue Hen 5K
University of Delaware graduates planning to attend Alumni Weekend are encouraged to register for the annual Blue Hen 5K walk and run, which will be held Sunday morning, June 5.
June 6-9: Food and culture series
The 20th annual June Lecture Series at the Osher Lifelong Learning Institute at UD in Wilmington will be held June 6-9. Titled 'June a la Carte,' this year's program focuses on great political documents, feminism, world politics and a Newark cuisine sampler.
The presentation will be followed by a question-and-answer session with the audience. The talk is open to the public.
Harker is the 26th president of the University of Delaware. He also is professor of business administration in the Alfred Lerner College of Business and Economics and professor of civil and environmental engineering in the College of Engineering. 
He earned a doctorate in civil and urban engineering from the University of Pennsylvania and served as dean of the Wharton School before coming to UD in July 2007. 
Harker is a Class B director of the Federal Reserve Bank of Philadelphia, a member of the Homeland Security Academic Advisory Council, a member of the board of directors of the NCAA Division I and a member of the NCAA Executive Committee, the organization's highest governance body. He serves on the boards of Christiana Care Health System, First State Innovation, Catholic Relief Services and Easter Seals of Delaware. He is a member of the Regional Leadership Initiative Steering Committee at the Council on Competitiveness and a member of the CEO Council for Growth at the Greater Philadelphia Chamber of Commerce.
President George H.W. Bush named Harker a White House Fellow in 1991, and he served from 1991-92 as a special assistant to FBI Director William S. Sessions. He was named a Fellow of the Institute for Operations Research and the Management Sciences (INFORMS) in October 2012, and a Charter Fellow of the National Academy of Inventors in December 2012.
The following speakers have been confirmed for future Thought Leader presentations. Nominations continue to be accepted on this webpage.
Oct. 13 — Richard Tapia, director, Center for Excellence in Equity in Education, Rice University.
Oct. 30 — Pamela Matson, dean, School of Earth Sciences, Stanford University.
March 5, 2015 — Earl Lewis, president, The Andrew W. Mellon Foundation.
For more information about UD's strategic planning initiative and to share your thoughts about the UD of the future, visit the Delaware Will Shine website.