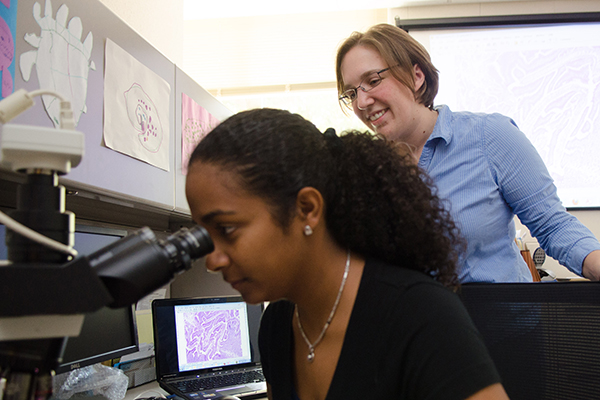 AVMA honor
UD's Brannick named American Veterinary Medical Association Future Leader
10:21 a.m., Sept. 15, 2014--The University of Delaware's Erin Brannick has been named one of the American Veterinary Medical Association's (AVMA) 2014-15 Future Leaders. 
Brannick, assistant professor in the Department of Animal and Food Sciences in UD's College of Agriculture and Natural Resources, was one of 10 Future Leaders selected nationally.
National Medal of Science
President Barack Obama recently presented the National Medal of Science to University of Delaware alumnus Rakesh Jain.
Warren Award
Rosalind Johnson, assistant dean for student success in the NUCLEUS Program in UD's College of Arts and Sciences, was presented the John Warren Excellence in Leadership and Service Award during a May 26 ceremony.
The leaders represent a wide range of veterinary medicine disciplines, spanning from the military service to private laboratories to diagnosticians to small or mixed animal practitioners.  
"I think that's one of the powers of the program -- that we're bringing together such a breadth of our profession on this small team," said Brannick. "We will bring all those different perspectives into moving a project forward, as well as helping each other gain leadership experience and skills." 
Nominated by the American Association of Avian Pathologists (AAAP), Brannick said that it was a tremendous honor to be selected as a Future Leader.
"It is definitely an honor to be named one of the Future Leaders, especially knowing that I was selected from all of my peers across the country. I'm very thankful and grateful to the AAAP for that honor," said Brannick. 
As a Future Leader, Brannick will participate in a yearlong leadership-training program as well as a project that will end up feeding back to the AVMA as a whole. 
For this year's project, Brannick said that the group wants to focus on the theme of workplace wellness, specifically wellness of the veterinarians themselves. 
"Our particular group decided that we wanted to focus on workplace wellness and so we're thinking across the breadth of veterinary workplaces, from academia to pharmaceutical or industry to private practices, and what individual veterinarians need to be able to work in a healthy way in that environment," said Brannick. 
Brannick said that creating a healthy work environment could encompass working on interpersonal relationships, balancing work with private life, taking time out to exercise, and learning how to cope with being a compassionate caregiver every day, as well as figuring out ways to handle potential emotional stress in their clients or staff. 
A private consultant has been brought in to lead the workshops that will develop further leadership skills within the group and get the group working as a team. 
In addition, the leaders completed a "360 assessment," in which they received leadership commentary, completed self-reviews and got feedback from peers, supervisors and superiors within their organizations.
"That is supposed to give us a more rounded approach to how to best develop our unique leadership skills and talents," said Brannick. "The hope, ultimately, is that these future leaders will truly become the leaders in local, state and national organizations so that it will end up benefiting veterinary medicine as a whole by developing individuals who will take the charge and lead our organizations to the next phases." 
Brannick said she had not considered applying for the program until she happened to see a photograph of Barbara Schmidt, a former mentor from a high school veterinary internship and the current treasurer of the AVMA, gracing the cover of one of the organization's journals. 
"I had shadowed her on multiple farm visits and then one day here at UD, I ended up grabbing one of the AVMA journals and there on the front cover was her picture. I started reading and it really got me thinking. Even though I felt like I was just one person -- what could I possibly do? -- I realized that if everyone felt like that, nothing would get done, so maybe it was time to take my leadership to a national level and show that to others," said Brannick. 
Having taken her leadership to that next level and received national recognition, Brannick is hoping to have the same impact on some of her pre-veterinary students that Schmidt had on her. 
"I'm very grateful to have this opportunity to show my students leadership at a national level," she said. "I hope that as my pre-veterinary students come up into veterinary medicine, they'll consider what they can do to give back to their profession and how they can make an impact at a regional or national level." 
Article by Adam Thomas