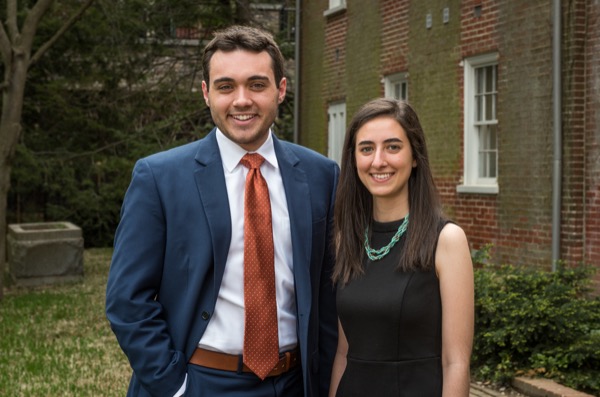 Outstanding seniors
Seniors Quartararo and Rucci recognized with UDAA's Warner, Taylor awards
9:49 a.m., May 12, 2015--University of Delaware seniors Elizabeth Quartararo and Mark Rucci have been selected as the recipients of the Emalea Pusey Warner and Alexander J. Taylor Sr. awards, respectively, as the outstanding woman and man of the 2015 graduating class.
The awards are given annually by the UD Alumni Association to recognize seniors, a man and woman, who most exemplify leadership, academic success and community service.
National Medal of Science
President Barack Obama recently presented the National Medal of Science to University of Delaware alumnus Rakesh Jain.
Warren Award
Rosalind Johnson, assistant dean for student success in the NUCLEUS Program in UD's College of Arts and Sciences, was presented the John Warren Excellence in Leadership and Service Award during a May 26 ceremony.
Elizabeth Quartararo 
Emalea Pusey Warner Award recipient Elizabeth Quartararo, of Stamford, Connecticut, is a candidate for the honors degree with distinction with majors in English and public policy and a minor in history.
Quartararo is the editor-in-chief of The Review, the UD student newspaper, and helped lead the paper through a successful fundraising effort as well as a print and award winning online redesign. 
Her passion for journalism along with her interest in public service and youth development led Quartararo to found her own non-profit organization while a sophomore at UD. Project Lede, now a 501(c)(3) organization, is an educational intervention program designed to provide a journalism curriculum for underserved schools that is intended to help empower middle school students and provide them with skills for academic and social success. Project Lede currently serves four middle schools in the Northeast.
This past fall, Quartararo, who holds a 3.93 grade point average, was a finalist for the prestigious Marshall Scholarship and was selected as an alternate for the New York region. She received a Global Scholars Award in 2013 for a semester's study in London and was selected to attend the Clinton Global Initiative University in March 2014. She served as a Munson Fellow in her junior year, mentoring 45 honors freshmen in community-building and academic success, and received the Woody Sprague Memorial Outstanding Fellow Award for that year.
Mark Bowden, distinguished writer in residence, noted in his recommendation of Quartararo, "Here is a young woman of remarkable talent and energy, determined to put her education and interests to work helping not just herself, but others."
Richard Jones, visiting professor of English and associate editor of The New York Times, wrote, "Elizabeth is courageous and thoughtful, she doesn't back away from a challenge, and she has a moral and ethical compass that is firmly pointed in the right direction."
Mark Rucci
Mark Rucci, of Wildwood, New Jersey, will earn an honors degree this spring with a major in public policy and a minor in legal studies. This summer, he will earn a master's degree in public administration as a part of the University's 4+1 BA/MPA program.
Rucci's areas of interest include public education policy, American politics and law. He has served as a Legislative Fellow on the Education Committee in the Delaware House of Representatives, a judicial intern in the Superior Court of New Jersey, a teaching assistant in the School of Public Policy and Administration and a policy intern in the U.S. Department of Education. 
Rucci was named a David A. Plastino Scholar for his work on equity disparities in American public schools and received the Henry R. Folsom Award for his subsequent policy brief. He has studied abroad at the Universidad de Granada, Spain, and volunteered in Nairobi, Kenya.
While at UD, Rucci served for two years as a student engagement adviser and resident assistant with the Office of Residence Life and Housing. He was also an appellate board officer with the Office of Student Conduct.  
Rucci will be attending the London School of Economics and Political Science in the fall to study rising global inequality and plans to pursue a career in law and public policy.
Patricia Sloane-White, associate professor of anthropology, one of the professors who recommended Rucci for the award, wrote, "He is a true leader, a charismatic speaker and advocate, and serves as a shining example of what a young man can accomplish both in his own community and far beyond it." 
George Watson, dean of the College of Arts and Sciences, said, "Mark epitomizes the true 'triple threat' in leadership, academic success and community service that we seek to recognize with the Taylor Award." 
About the awards
Alexander J. Taylor Sr. (1875-1940) entered Delaware College in 1889 and graduated in 1893 as class valedictorian, with a baccalaureate degree in civil engineering. Mr. Taylor was elected to the Board of Trustees in 1927, reelected in 1932 and again in 1938. He served on the Grounds and Buildings Committee and Executive Committee and was chairman of the Finance Committee.
Emalea Pusey Warner (1853-1948) is best remembered on the University of Delaware campus as a champion of education. In 1911, she became chairperson of the State Federation of Women's Clubs' Committee on Education and worked diligently toward the specific goal of establishing a state-supported women's college. In 1914, she was appointed chairperson of the Advisory Council of the Women's College and later became the first woman member of the Delaware College Board of Trustees. Both Warner Hall on the UD campus and Warner Elementary School in Wilmington are named in her honor.
The Warner Award was first given in 1950, while the Taylor Award debuted in 1968.
Recipients are recognized with a $2,500 scholarship, are honored at a luncheon and lead the alumni delegates' procession at Commencement, which this year will be held Saturday, May 30, at Delaware Stadium.
About the UD Alumni Association
All University of Delaware graduates are automatically granted membership in the UD Alumni Association (UDAA) upon graduation and are inducted with a pinning ceremony at Commencement. The UDAA is proudly dedicated to engaging the entire alumni community by fostering a tradition of lifelong loyalty and commitment to the University.
The UDAA provides exceptional value and ongoing support to alumni worldwide by expanding benefits available to alumni, supporting regional and affinity club events, recognizing alumni and their accomplishments and more.
Photo by Kathy F. Atkinson