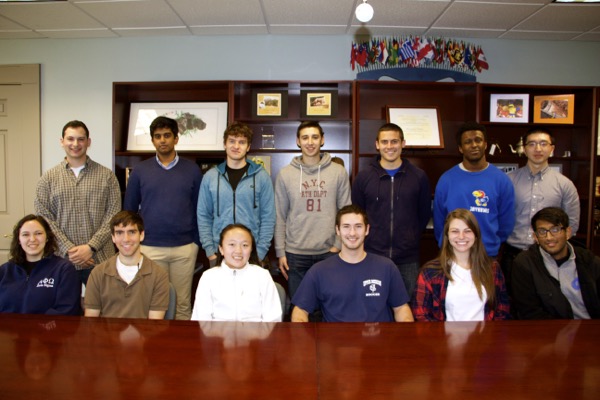 UD sends 15 to CGI U
Clinton Global Initiative University projects, expectations vary for UD students
2:56 p.m., March 6, 2015--This weekend, 15 students from the University of Delaware will join almost 1,000 of their peers in Coral Gables, Florida, for the annual meeting of the Clinton Global Initiative University (CGI U).
UD students represent a variety of academic disciplines and commitments, including an Engineers Without Borders Project in Malawi, UD H-2 Grow and JUMPStart, an organization that connects the homeless or near homeless with university students who review their resumes.
National Medal of Science
President Barack Obama recently presented the National Medal of Science to University of Delaware alumnus Rakesh Jain.
Warren Award
Rosalind Johnson, assistant dean for student success in the NUCLEUS Program in UD's College of Arts and Sciences, was presented the John Warren Excellence in Leadership and Service Award during a May 26 ceremony.
Students representing UD include Timothy D'Agostinio, Dylan Buller, Heather Brody, Dominique Oppenheimer, Emily Zhang, Jaewoong Yoo, Garrison Davis, Arvind Annamalai, Dakota Hanemann-Rawlings, Kyle Lusignea, Taylor Boyle, Bimal Amin, Thomas McDowell, Matt Rojas and Matt Sobel. 
Although all share pride in being selected to participate in CGI U, the students' conference expectations vary as greatly as their projects.
Two UD participants, Boyle and McDowell, are awaiting two patents for their senior design experiment, a catheterization simulation project. The pair are excited to share their results, compare with others, and "show the rest of the conference what UD represents and how strong a community we have." 
For some, like Buller, whose project "H.O.P.E for a Conflict-Mineral-Free Campus" is in its beginning stage, the conference will provide essential mentorship. "Our group has an idea of how we want to go forward," said Buller, "but hearing from other people will give us more information about what has worked at other universities, at the international level, and how we can bring it to our university community." 
He added, "It is going to be really empowering." 
Zhang is hoping to network and make connections. Her organization, FEMPower, is a health education program focused on tackling the outdated cultural beliefs that often lead to unplanned pregnancies and poor health conditions for Haitian women. 
"A lot of non-profits work separately," said Zhang. "We want to meet other groups that want to do the same thing so we can really help people with less, and share resources."
Some students see participation in CGI U as an impetus to focus and think strategically. "They ask you how your project is sustainable, how you keep it going, and what the next step is," said Davis. "It's good to help you get your ducks in a row." 
For others, being a part of the Clinton Global Initiative University means being a part of an inspirational community. "Seeing the same seed of desire to help underdeveloped countries or communities, whether internationally or domestically," said Lusignea, a senior member of UD's chapter of Engineers without Borders (EWB), "is one of the most encouraging things I take away." 
To follow UD's 2015 CGI U participants during the conference, visit @UDGlobal on Instagram and Twitter. 
For more information on the Clinton Global Initiative University, contact student liaison Meng Fan at mengfan@udel.edu.
About the Clinton Global Initiative University
Founded by Bill and Chelsea Clinton in 2007, CGI U is a program aimed at empowering students from university campuses across the world who are at the forefront of addressing some of the most pressing global challenges.
CGI U requires that participants take on a Commitment to Action, an innovative solution to a challenge within one the five CGI U focus areas. 
Article by Nikki Laws