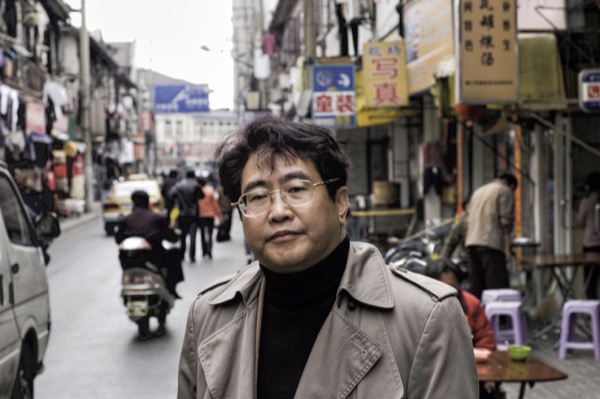 March 24: Crime novelist
Author Qiu Xiaolong to speak about Inspector Chen and China
2:51 p.m., March 16, 2015--Qiu Xiaolong, award-winning creator of Shanghai police detective and poet Inspector Chen Cao, will speak at the University of Delaware about his crime-novel series and its commentary on contemporary China, from 5-6 p.m. Tuesday, March 24, in Trabant University Center Theatre. 
The talk, titled "Inspector Chen in the Global Era," is free and open to the public and will be followed by a reception and book signing.
June 5: Blue Hen 5K
University of Delaware graduates planning to attend Alumni Weekend are encouraged to register for the annual Blue Hen 5K walk and run, which will be held Sunday morning, June 5.
June 6-9: Food and culture series
The 20th annual June Lecture Series at the Osher Lifelong Learning Institute at UD in Wilmington will be held June 6-9. Titled 'June a la Carte,' this year's program focuses on great political documents, feminism, world politics and a Newark cuisine sampler.
Qiu's series of police procedurals combine mysteries with insights into China today, as the nation moves from socialism to capitalism. Inspector Chen himself, over the course of the novels, has changed from an idealistic young detective to one who is more cynical, particularly about corruption in the Chinese government and the Communist Party.
The first Inspector Chen novel, Death of a Red Heroine, was published in 2000. It won the prestigious Anthony Award for best first novel by a mystery writer and was ranked as one of the five best political novels of all time by The Wall Street Journal. The newest book in the series, Shanghai Redemption, is scheduled for release this summer.
Qiu is also the author of two books of poetry translation and a collection of his own poetry, Lines Around China.
His books have sold more than a million copies and have been published in 20 languages. A native of Shanghai, he now lives in St. Louis, Missouri, with his wife and daughter.
Qiu's talk is co-sponsored by the College of Arts and Sciences' Center for Global and Area Studies (CGAS), the Department of Foreign Languages and Literatures' Distinguished Scholar Lecture Series and the Department of English. It is part of the CGAS spring Issues in Global Studies Lecture Series, "Globalization, Organized Crime and Terrorist Networks."
Other coming lectures in the series are:
April 20, 5-6 p.m., in 127 Memorial Hall, Algerian-Italian crime novelist Amara Lakhous will speak about "Diversity and Suspicion in a Global World."
April 27, 7-8:30 p.m., Mitchell Hall, Middle East experts Juan Cole of the University of Michigan and Bassam S. Haddad of George Mason University, will hold a public discussion on "The Middle East in Crisis: Causes and Prospects."