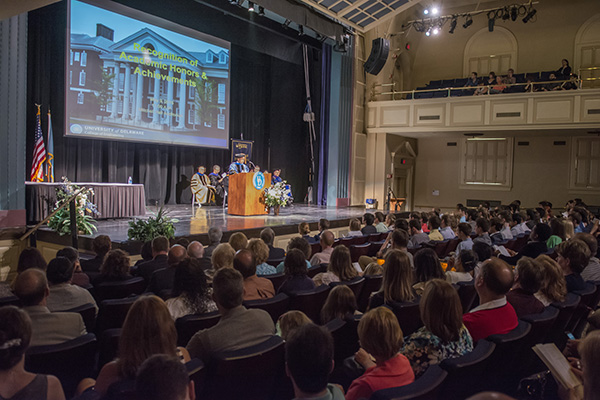 Engineering achievements
College of Engineering students, faculty recognized at end-of-year ceremonies
9:53 a.m., June 10, 2015--The University of Delaware's College of Engineering recognized the academic honors and achievements of undergraduate and graduate students at a ceremony on May 9.
More than 140 awards — sponsored by the University, the college and its seven departments, professional societies, research centers, companies, class gifts, and individual donors — were conferred on some 250 students, and an additional 800-plus students were recognized for making the Dean's List. 
National Medal of Science
President Barack Obama recently presented the National Medal of Science to University of Delaware alumnus Rakesh Jain.
Warren Award
Rosalind Johnson, assistant dean for student success in the NUCLEUS Program in UD's College of Arts and Sciences, was presented the John Warren Excellence in Leadership and Service Award during a May 26 ceremony.
Of particular note was the highest graduate student honor in engineering at UD, the Laird Fellowship, which was awarded to Keely Heintz, a doctoral student in biomedical engineering.
In addition, the college honored three faculty members during convocation on May 30.
Feng Jiao, assistant professor in the Department of Chemical and Biomolecular Engineering, was recognized as the College of Engineering Outstanding Junior Faculty Member. In 2014, Jiao received a Faculty Early Career Development Award from the National Science Foundation to support his work on the development of catalysts for converting greenhouse gases to useful chemicals. Earlier in 2014, he published an article in Nature reporting the development of a highly selective silver catalyst that can electrochemically convert carbon dioxide to carbon monoxide with 92 percent efficiency.
Jill Higginson, associate professor in the Department of Mechanical Engineering, received the Excellence in Teaching Award. Higginson, whose research focuses on neuromuscular biomechanics, recently received an education grant from the National Institutes of Health that will build a link between the biomedical engineering clinical immersion and senior design programs. The funds will support expansion of the senior design program to include clinically motivated projects identified during previous clinical immersion experiences.
The late Steve Dentel, professor in the Department of Civil and Environmental Engineering, received the inaugural Dean's Award for Excellence in Service and Community Engagement. Dentel, who died on Feb. 18, launched UD's Engineers Without Borders (EWB) chapter in 2006. He went on to lead more than 40 EWB students on multiple trips to Cameroon, where they worked on projects to develop systems for clean and sustainable water supplies for local villages.
In 2014, Dentel was honored as the namesake and inaugural recipient of the Association of Environmental Engineering and Science Professors Steven K. Dentel Award for Global Outreach in recognition of his "outstanding contributions and leadership through involvement in environmental engineering and science outreach activities to the global community." 
Article by Diane Kukich
Photo by Doug Baker