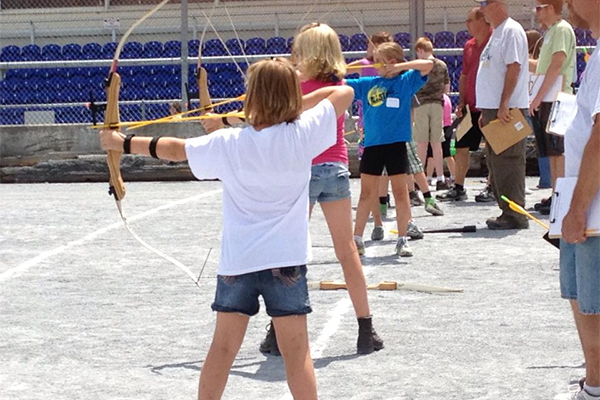 July 17-26: State Fair
UD Cooperative Extension heads to Delaware State Fair
9:19 a.m., July 16, 2014--University of Delaware Cooperative Extension will once again have a strong presence at this year's Delaware State Fair, which runs Thursday, July 17, through Saturday, July 26, at the fairgrounds in Harrington, Delaware.
4-H youth, in particular, have a strong stake in the Delaware State Fair as it serves as the culmination of planning that begins at the start of the 4-H year the previous September. 
June 5: Blue Hen 5K
University of Delaware graduates planning to attend Alumni Weekend are encouraged to register for the annual Blue Hen 5K walk and run, which will be held Sunday morning, June 5.
June 6-9: Food and culture series
The 20th annual June Lecture Series at the Osher Lifelong Learning Institute at UD in Wilmington will be held June 6-9. Titled 'June a la Carte,' this year's program focuses on great political documents, feminism, world politics and a Newark cuisine sampler.
As they move through the year, 4-H youth reserve the best of their work to display at the fair, with exhibits that span several diverse project areas including canning, entomology, beekeeping, clothing and textiles, horticulture, crops, food products, woodworking, computer graphics and photography, to name just a few.
Extension staff, Master Food Educators, Master Gardeners and 4-H alumni serve as exhibit judges. In 2013, 4-H checked-in 10,362 exhibits.
The 4-H general demonstrations, also known as illustrated talks, will take place from 10 a.m.-noon, Monday, July 21.
In addition, there will be 4-H floats on display during fair's nightly parades.
The Delaware State Fair is the capstone event for 4-H contest winners at the county level, who will vie for overall state honors in Harrington. There will be competition in livestock, poultry, horticulture, vegetable, clothing and textiles, and photography. Other featured contests include tractor driving, photography, archery, Avian Bowl, Consumer Bowl, the 4-H Horse Show and a talent show.
The awards celebration for these contests will be held on Saturday, July 26, from 5-7 p.m.
In addition to the 4-H presence, Cooperative Extension will be represented by members of the Master Gardeners, who will answer gardening questions at their gazebo across from the plaza.
At the Delaware Department of Agriculture (DDA) Commodities Building, the Cooperative Extension exhibit will feature an online Ask an Expert station, which debuted at the state fair last year. At the station, members of the public are invited to query on topics that include lawn and garden, food safety, consumer sciences and questions about 4-H. Live Extension experts will also be on hand to answer questions.
Directly across from the Extension exhibit, DDA's demonstration kitchen will serve as a stage for a variety of interesting and delicious "how to" presentations, many taught by UD Extension staff members.
In celebration of Cooperative Extension's 100th anniversary, there will be chances to win one of four gift baskets from each of Extension's program areas — 4-H, lawn and garden, agriculture and natural resources, and family consumer sciences — with the drawing taking place on Saturday, July 26, at noon.
The Cooperative Extension centennial celebration ceremony will take place from 2:30 p.m.-4 p.m., Thursday, July 24, in the Grove Picnic Area. The public is invited to hear brief remarks by Gov. Jack Markell and others, and enjoy cake and the unveiling of the Centennial ice cream flavor created by the University's UDairy Creamery especially for the occasion.
Article by Adam Thomas and Michele Walfred