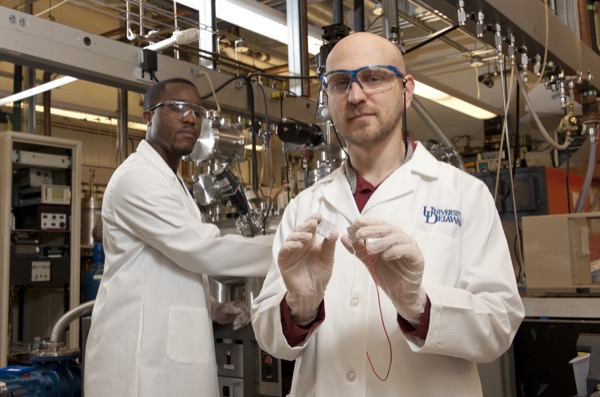 Zide honored
Materials Science and Engineering's Zide wins AVS Peter Mark Memorial Award
8:43 a.m., Jan. 6, 2015--Joshua Zide, associate professor of materials science and engineering at the University of Delaware, has won the 2014 Peter Mark Memorial Award from AVS, an interdisciplinary society for materials, interface and processing technology. 
The award recognizes an outstanding young researcher (35 or younger) who has contributed work to AVS publications.
National Medal of Science
President Barack Obama recently presented the National Medal of Science to University of Delaware alumnus Rakesh Jain.
Warren Award
Rosalind Johnson, assistant dean for student success in the NUCLEUS Program in UD's College of Arts and Sciences, was presented the John Warren Excellence in Leadership and Service Award during a May 26 ceremony.
Zide is a pioneer in using bismuth in semiconductor technology, described as "a big step outside the norm that's now starting to catch on." Incorporating bismuth produces unusual electronic properties that can allow for better conductivity and potentially be useful for working with infrared radiation, making possible new types of electronics and applications in spectroscopy. 
"People would just use things like silicon and gallium arsenide" as semiconductors, says Robert Opila, professor of materials science and engineering who nominated Zide for the Peter Mark Award. "But now the whole periodic table's open, and he's opening up that periodic table."
Zide, who received his doctorate from the University of California, Santa Barbara, joined the UD faculty in 2007 and is a faculty senator representing the College of Engineering. 
An active member of the electronic materials community, he has served on the program committees for the North American Conference on Molecular Beam Epitaxy and the Electronic Materials Conference. 
Zide's research focuses on creating and characterizing nanomaterials with applications in thermoelectrics (devices that convert heat differences into electrical energy) and optoelectronics (devices that generate or detect light), including techniques like molecular beam epitaxy, where electronic materials can be grown one atom-thick layer at a time. 
His work often involves experimenting with unconventional electronic materials or finding new ways of manufacturing so that promising electronic technologies can be used on a larger scale. 
"Ideas are easy to come by," he says. "It's being able to actually make them work that's the hard part. That's what we try to do: we come up with ideas and try to see if they work."
One project he is working on, for which he received a 2012 Department of Energy Early Career Research Grant, involves using a new combination of two older technologies to create nanocomposites (metallic particles dispersed in a semiconductor material). 
"There's a theme in my work that stuff that works well that's expensive is impractical," he says, and this new fusion of technologies could make nanocomposites, used in energy-converting devices like solar cells, cheaper and easier to produce.
For his part, Zide is grateful for the relationships he's built. "I've been really fortunate to have fantastic advisers and mentors. I've [also] had some really great collaborators in and outside of the University of Delaware, and together we've done things that there's no way we could have done on our own." 
But the highlight of his career so far? "Working with the students has been just a fantastic experience; not only do we get to research interesting things, but the beauty of academia is that I get to help train the next generation of leaders in the field."