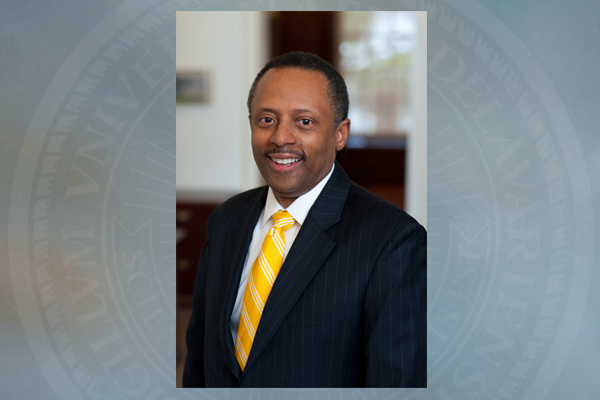 March 5: Thought Leader series
Earl Lewis, Mellon Foundation president, to lecture on future of higher education
10:10 a.m., Feb. 18, 2015--Earl Lewis, president of The Andrew W. Mellon Foundation, will present "Why Learn: In Search of Higher Education's Future" on Thursday, March 5, in the University of Delaware's Thought Leader Speaker Series. 
The talk, which is open to the public, will be held from 4-5:30 p.m. in UD's Roselle Center for the Arts. It will be followed by a question-and-answer session with the audience. 
June 5: Blue Hen 5K
University of Delaware graduates planning to attend Alumni Weekend are encouraged to register for the annual Blue Hen 5K walk and run, which will be held Sunday morning, June 5.
June 6-9: Food and culture series
The 20th annual June Lecture Series at the Osher Lifelong Learning Institute at UD in Wilmington will be held June 6-9. Titled 'June a la Carte,' this year's program focuses on great political documents, feminism, world politics and a Newark cuisine sampler.
The Andrew W. Mellon Foundation, which Lewis heads, has as its mission, "to strengthen, promote, and, where necessary, defend the contributions of the humanities and the arts to human flourishing and to the well-being of diverse and democratic societies." 
The foundation provided grants of approximately $235 million in support of higher education and culture in 2013.
A distinguished social historian, Lewis has championed the importance of diversifying the academy, enhancing graduate education, re-envisioning the liberal arts, exploring the role of digital tools for learning, and connecting universities to their communities. 
He has held faculty appointments at the University of California at Berkeley (1984-89), the University of Michigan (1989-2004), and Emory University (2004-12). At Emory, he served as provost and executive vice president for academic affairs and the Asa Griggs Candler Professor of History and African American Studies.
In addition to his numerous essays, articles and reviews on various aspects of American and African American history, Lewis is the author and co-editor of seven books, as well as the 11-volume The Young Oxford History of African Americans (with Robin D.G. Kelley, Oxford University Press, 1995-97). He also is the founding co-editor of the award-winning book series American Crossroads (University of California Press).
Among his other books are In Their Own Interests: Race, Class and Power in 20th Century Norfolk (University of California Press, 1991); the award-winning To Make Our World Anew: A History of African Americans (with Robin D.G. Kelley, Oxford University Press, 2000); and Love on Trial: An American Scandal in Black and White (with Heidi Ardizzone, WW Norton, 2001).
His most recent books are The African American Urban Experience: Perspectives from the Colonial Period to the Present (with Joe William Trotter and Tera W. Hunter, Palgrave Macmillan, 2004), and Defending Diversity: Affirmative Action at the University of Michigan (with Jeffrey S. Lehman and Patricia Gurin, University of Michigan Press, 2004).
Lewis is a native of Tidewater, Virginia. He received an undergraduate degree in history and psychology from Concordia College and a doctorate in history from the University of Minnesota. He is a fellow of the American Academy of Arts and Sciences.
The Thought Leader Speaker Series is sponsored by UD's "Delaware Will Shine" strategic planning initiative. Lewis's presentation is co-sponsored by the Center for the Study of Diversity and the Interdisciplinary Humanities Research Center.